Eating in Thailand: Mix and Match your meal at Arhan Tam Sang shop
Sound of the ladle hitting the wok. Smoky scent and heat of the flame. These are the signs of Arhan Tam Sang shop. You may experience that if you stroll down the street of Bangkok. You may know that they sell food. But what food are they selling exactly? We have an answer for you here.
Arhan Tam Sang is not the name of the dish. It's a category of the most commonly found "street food" in Thailand. "Arhan Tam Sang" literally means "food made to order," so basically, you can mix and match anything you like (if they could cook it in the wok and the shop has the ingredients). Dishes like Pad Ka Prao or Pad Prik Kaeng are some of the plenty you could get of the genre. If you want to try these dishes, you need to walk down the street and get one.

A Brief History of Arhan Tam Sang
There is no concrete evidence when the Arhan Tam Sang shop first appeared in Thailand. Many food experts estimated that such shops emerged around the '50-'60s and became popular in the '80s.
Eating out was not common for Thais in the past, nor was having a single-dish meal. They usually cooked 3-4 'Kub Khao' (dishes to eat with rice) at home and shared with family.
After the world war, Thai economy began to change rapidly. More people were starting to work outside, creating a demand for lunch spots. Then-available Kuay Tiaw and Khao Raad Kaeng stalls were the answer for many Thais.
This is where Arhan Tam Sang shops came in. Instead of multiple Kub Khao dishes, the shops make a single-dish rice meal. That's why another name for Arhan Tam Sang is called Arhan Jan Diaw (single-dish).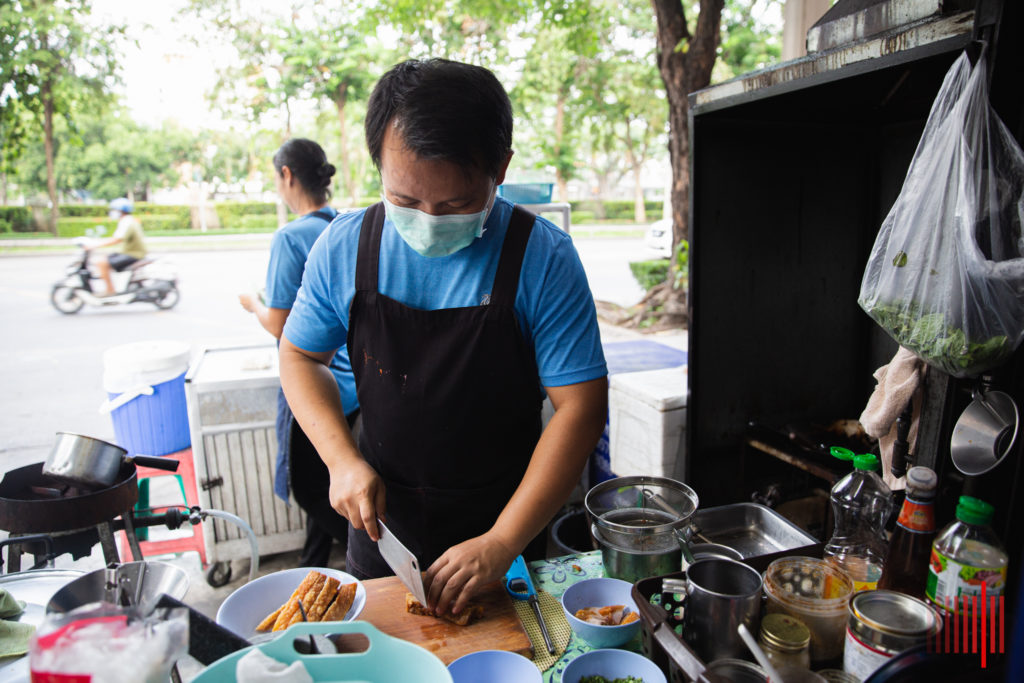 Anatomy of Arhan Tam Sung
Arhan Tam Sang consists of carbohydrates, protein, vegetables, and condiments. So if you were to order a dish, you have to be specific about what to put into your dish.
Carbohydrates
The core carb of Thai meals, of course, is rice. Many shops, however, offer many kinds of noodle, vermicelli and even pasta too.
Protein
The essential proteins you'll find in every shop are chicken, pork, beef, squid, shrimp, and Thai's favorite: crispy pork. You can also find sausage, fermented pork, offal, fish, frog, and even wild boar meat. Some shops even have more complex choices of dried fish, stewed pork, roasted duck, and canned mackerel in tomato sauce.
Vegetable
Vegetables in Arhan Tam Sung shop vary, ranging from holy basil, Chinese kale, morning glory, cauliflower, mushroom, carrot, tomato, broccoli, bamboo shoot, cabbage, napa cabbage. You can notice what they have by looking at the cabinet in front of the shop or asking them directly.
The condiments and cooking method
Most of the dishes are done in a wok, so the common method is stir-frying. Depending on the menu, the recipe will be using oyster sauce, soy sauce, fish sauce, and sugar (yes, we put sugar in our food) for seasoning. Other condiments include chilli paste (Prik Pao) for sweet and spicy flavor, red curry paste (Prik Kaeng) giving a deep herbal and spicy taste , green curry paste(Prik Kaeng Keaw Wan) with fresh herbal scent, and tom yum flavored condiment.
What to eat and how to order it?
There are 4-5 steps to order Arhan Tam Sang dish. We make a cheat sheet to help you pick what you need.
Step 1: Choose your carb.
| | | | | | |
| --- | --- | --- | --- | --- | --- |
| Thai | Pronounce | English | Thai | Pronounce | English |
| ข้าวราด | Khao Raad | Rice | เส้นใหญ่ | Sen Yai | Large Noodle |
| ข้าวผัด | Khao Pad | Fried Rice | เส้นเล็ก | Sen Lek | Small Noodle |
| วุ้นเส้น | Woon Sen | Vermicelli | เส้นมาม่า | Sen Mama | Instant Noodle |
| มักกะโรนี | Macaroni | Macaroni | สปาเก็ตตี้ | Spaghetti | Spaghetti |
Step 2: Select the method and condiment.
| | | | | | |
| --- | --- | --- | --- | --- | --- |
| Thai | Pronounce | English | Thai | Pronounce | English |
| ผัด | Pad | Standard stir-fry | ผัดพริกเผา | Pad Prik Pao | Chilli paste |
| ผัดพริกแกง | Pad Prik Kaeng | Red curry paste | ผัดพริกแกงเขียวหวาน | Pad Prik Kaeng Keaw Wan | Green Curry Paste |
| ผัดต้มยำ/ต้มยำผัดแห้ง | Pad Tom Yum / Tom yum Pad Haeng | Tom Yum paste | ผัดขี้เมา | Pad Ki Mao | Spicy -Herbal stir-fried |
Step 3: Add some Veg.
| | | | | | |
| --- | --- | --- | --- | --- | --- |
| Thai | Pronounce | English | Thai | Pronounce | English |
| กะเพรา | Ka Prao | Holy basil | คะน้า | Ka Na | Chinese Kale |
| ดอกกะหล่ำ | Dok Ka Lum | Cauliflower | ผักบุ้ง | Pak Boong | Morning glory |
| แครอท | Carrot | Carrot | เห็ด | Hed | Mushroom |
| หน่อไม้ | Nor Mai | Bamboo shoot | มะเขือเทศ | Ma Kuea Ted | Tomato |
| กะหล่ำ | Ka Lum | Cabbage | บรอคโคลี่ | Broccoli | Broccoli |
| ผักกาดขาว | Pak Kard Kao | Napa Cabbage | ผักรวม | Pak Ruam | Mixed Vegetables |
Step 4: Add your meat.
| | | | | | |
| --- | --- | --- | --- | --- | --- |
| Thai | Pronounce | English | Thai | Pronounce | English |
| ไก่ | Gai | Chicken | หมูกรอบ | Moo Krob | Crispy pork |
| หมู | Moo | Pork | ปลา | Pla | Fish |
| เนื้อ | Nuea | Beef | แหนม | Naem | Fermented Pork |
| ปลาหมึก | Pla Muek | Squid | เครื่องในไก่ | Krueng Nai Gai | Chicken gizzard and liver |
| กุ้ง | Goong | Shrimp | เครื่องในหมู | Krueng Nai Moo | Pork offal |
| ขาหมู | Ka Moo | Stewed Pork Leg | หมูป่า | Moo Paa | Wild Boar Meat |
| เป็ดย่าง | Ped Yang | Roasted Duck | กบ | Kob | Frog |
| ปลากระป๋อง | Pla Ka Pong | Canned Mackerel in Tomato sauce | ไข่เยี่ยวม้า | Kai Yeaw Ma | Thousand-Year Egg |
| ทะเล | Talay | Mixed Seafood | รวม | Ruam | Mixed Meat |
(Optional) Step 5: Topped with an egg
Thai
Pronounce
English
Thai
Pronounce
English
ไข่ดาว
Kai Dao
Fried egg
ไข่เจียว
Kai Jeaw
Thai-styled omelet
ไข่เจียวหมูสับ
Kai Jeaw Moo Sub
Thai-styled omelet with minced pork
Notes* You can order just rice and Thai-styled omelet with minced pork too. This dish goes along very well with Sriracha sauce.
So if you want to order a dish of rice with stir-fried morning glory and crispy pork topped with fried egg, look at the chart, following the step and it'll be: " Khao Raad Pad Pak Boong Moo Krob Kai Dao". Now you can try to order it.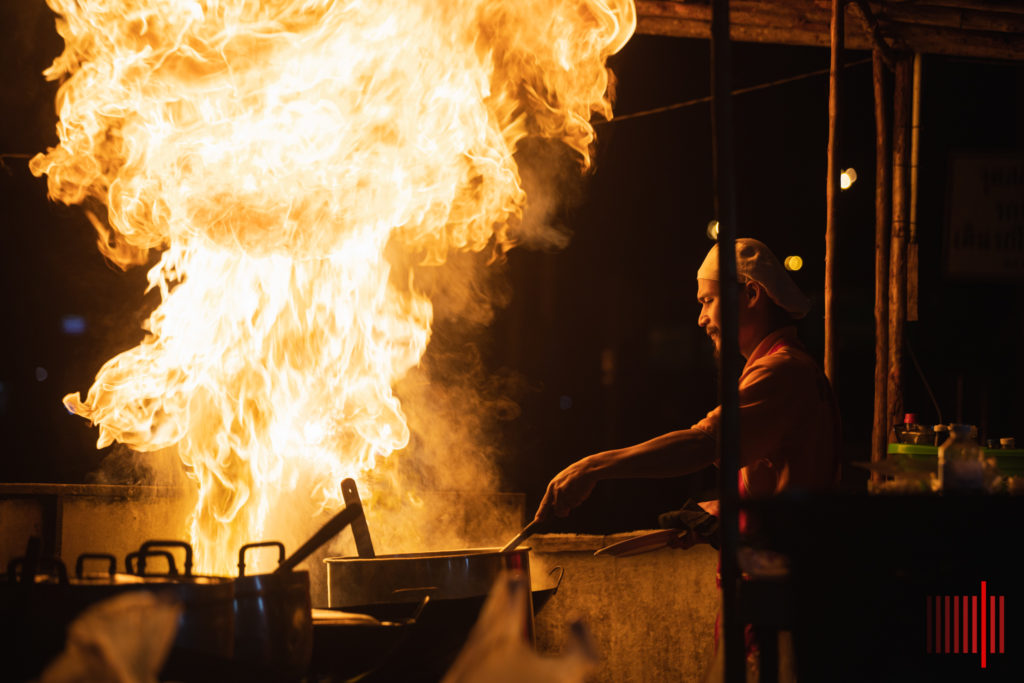 Common dishes
The Basics
An Arhan Tam Sang menu that is arguably our true national dish is rice with stir-fried chicken and holy basil topped with a fried egg (Khao Raad Pad Ka Prao Gai Kai Dao). The herbal scent from holy basil can go along with any meat with a little bit of saltiness from fish sauce. Fiery kick from chilli goes along really well with creamy egg yolk and fluffy rice.
Next is rice with stir-fried Chinese kale and crispy pork (Khao Raad Khana Moo-Krob). The crunchy texture of crispy pork will make you understand why Thais are going crazy about this protein.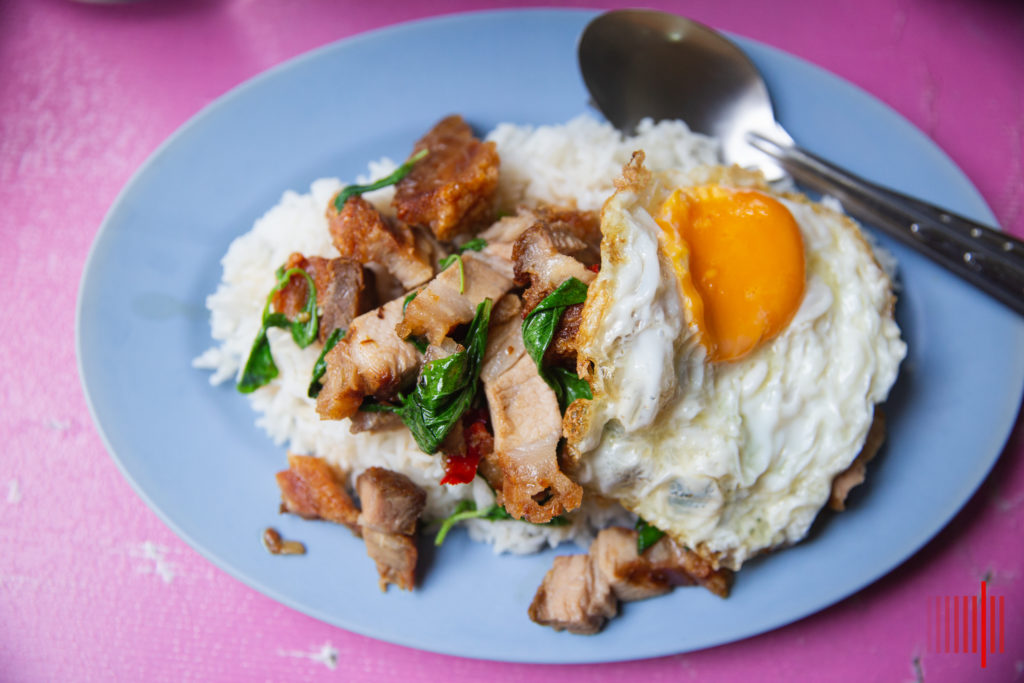 Another dish for meat lovers is rice with stir-fried garlic pork (Khao Raad Moo Kra Tiam). While it seems simple, the secret is in the golden trio called "Sam Ker"– garlic, pepper, and coriander root. This mixture gives several dishes the distinctive "Thai" aroma.
Rice topped by Thai style omelet with minced pork (Khao Raad Kai Jeaw Moo-Sub) is a no-brainer you might fall in love with. Crispy deep-fried omelet may sound weird to foreigners, but try it with sriracha sauce. You'll agree that simplicity can be satisfying.
Last but not least is fried rice (Khao Pad). A versatile menu, Khao Pad can be made of any kind of meat and vegetable in it. You can also add special seasonings, such as Prik Kaeng Kiew Wan (green curry paste). Sprinkle fish sauce and chilli if you need more flavour.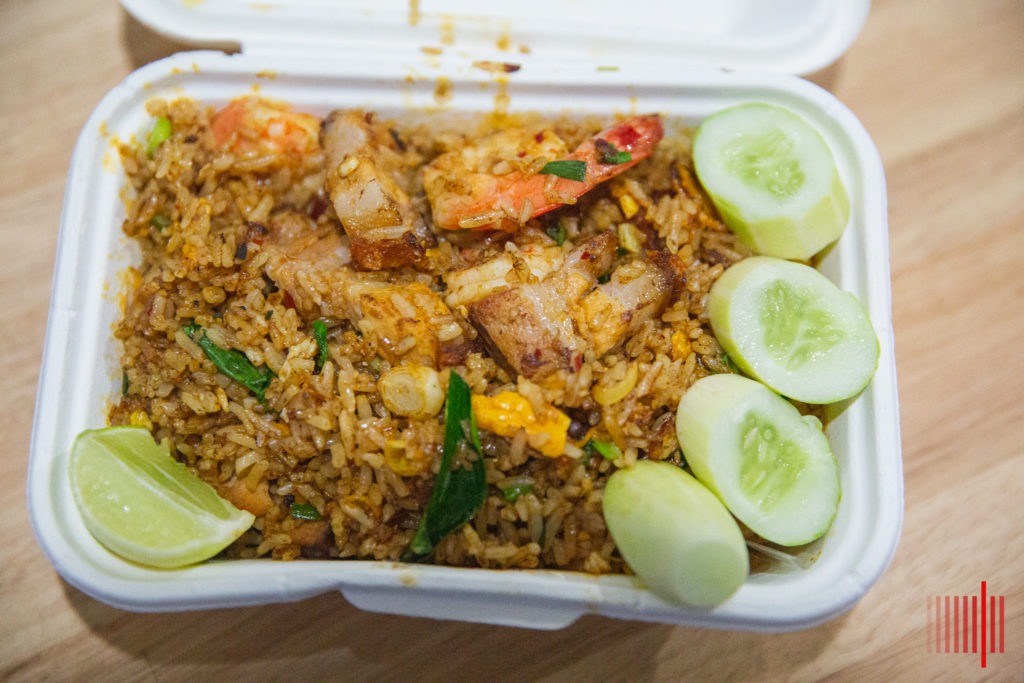 The Advance
If your palate is ready for another level of Arhan Tam Sang, try rice with stir-fried holy basil minced pork with a thousand-year egg (Khao Raad Ka Prao Moo Sub Kai Yeaw Ma). The creamy texture of the egg contrasts with the piquant taste of Pad Ka Prao. Or try rice with stir-fried Chinese kale with canned mackerel (Khao Raad Khana Pla Ka Pong). An unusual combination, we know, but you might find sweet and sour tomato sauce a refreshing relish to Chinese kale.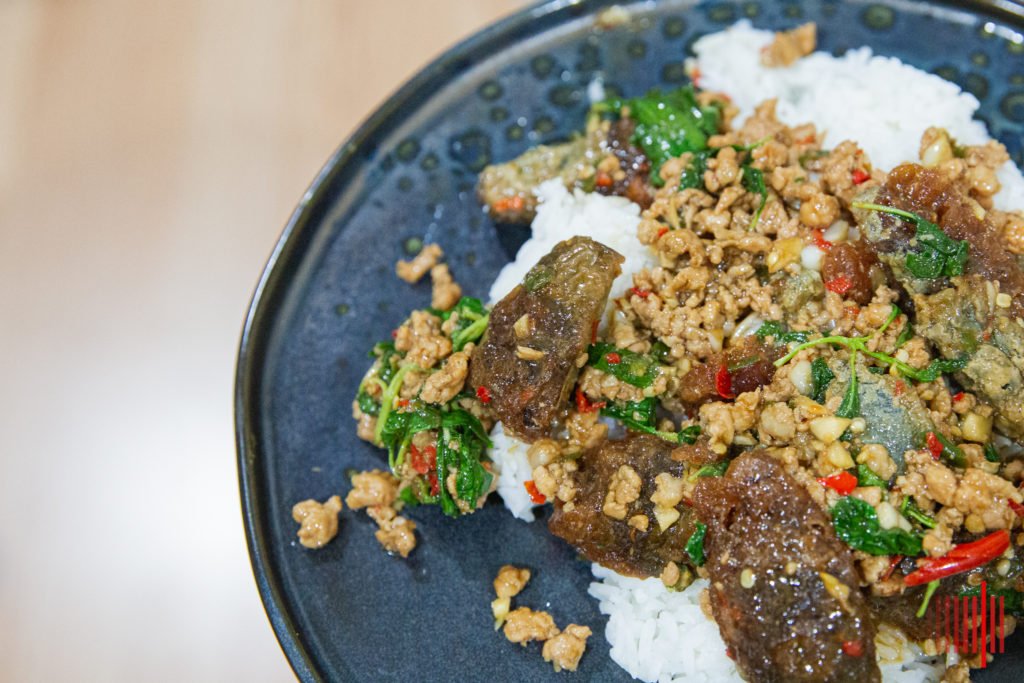 Another dish is stir-fried macaroni with pork and egg in ketchup (Pad Macaroni Moo Sai Kai). Our Italian amici might have a heart attack seeing this atrocity. But what is food localisation, if not a little crime against the original? Before turning your nose up, give it a try.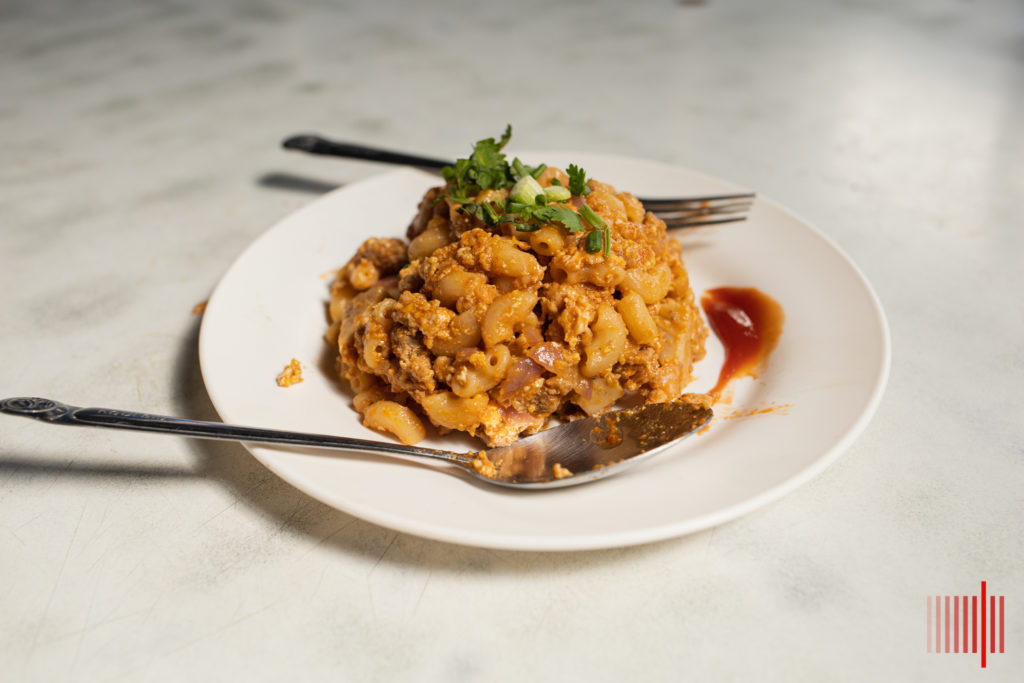 The hungry and outrage
While there are varieties of standard dishes, hungry and bored Thais have played around the combinations that don't always make sense. If you're feeling adventurous, try mixing any protein or two and picking paste or cooking methods you haven't tried. Ultimately, there are no rules for Arhan Tam Sang. You might get a disaster of a meal, or you might invent a new local favourite!
What was your experience with Arhan Tam Sang? Do you have any go-to dish? Next time you hear the sound of the wok on the street, try to order something and see what it's like.