Food container waste surges as Bangkok shutdown continues
The authority's preventative measures against the COVID-19 pandemic, specifically restaurant closure, has forced a new consumer behaviour. The change reflects in leftovers and waste found at sites around Bangkok. When going out to dine is no longer feasible, city dwellers turn to food delivery and takeaway services. Such convenience, of course, comes with an implication of growing garbage piles.
Wanchai, a waste collector in Wattana district, said that differences in amount and type of garbage around this time depend on the areas. Neighbourhoods that are densely populated by expats and streets full of hotels see a sharp decrease in amount. Foreigners fled the country, and tourists disappeared, resulting in fewer activities and consumptions around the areas.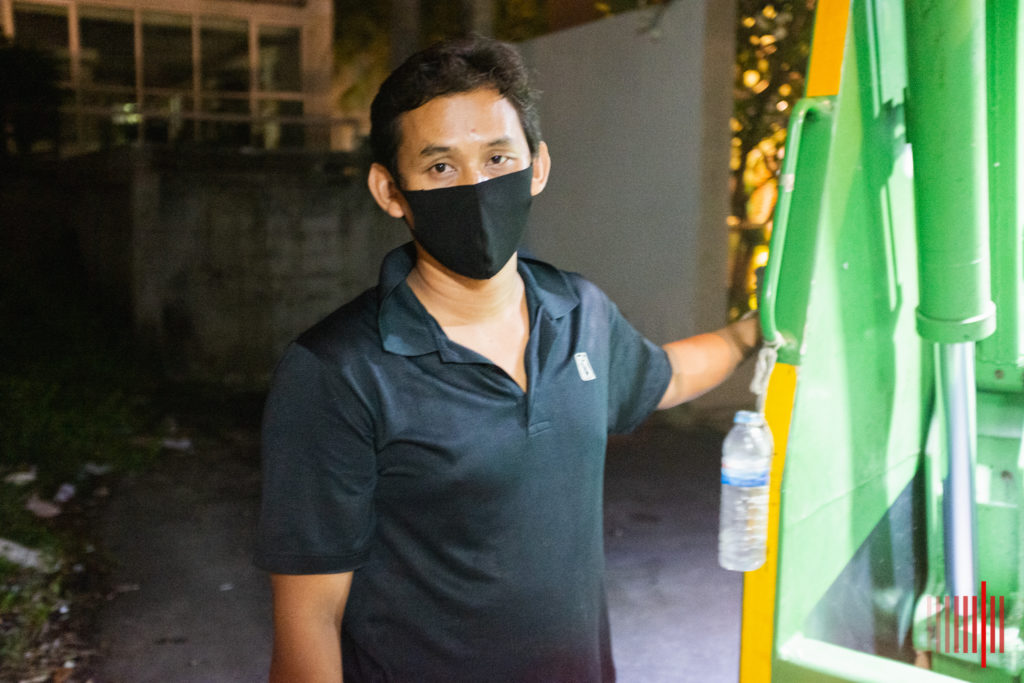 The amount of garbage from other residential areas remains unchanged. Wanchai, however, noticed that there are more single-use food packaging than ever. Plastic bags, foam containers, tray papers, disposable utensils are stacking up – a consequence of the booming food delivery service.
With the virus spreading, the nature of Wanchai's work exposes him and other waste collectors to added hazards. He said that Bangkok City Hall provides its employees like him with a health benefit. The district offices also supply them with protective equipment, including face mask and shield, gloves, disinfectant, and hand sanitiser.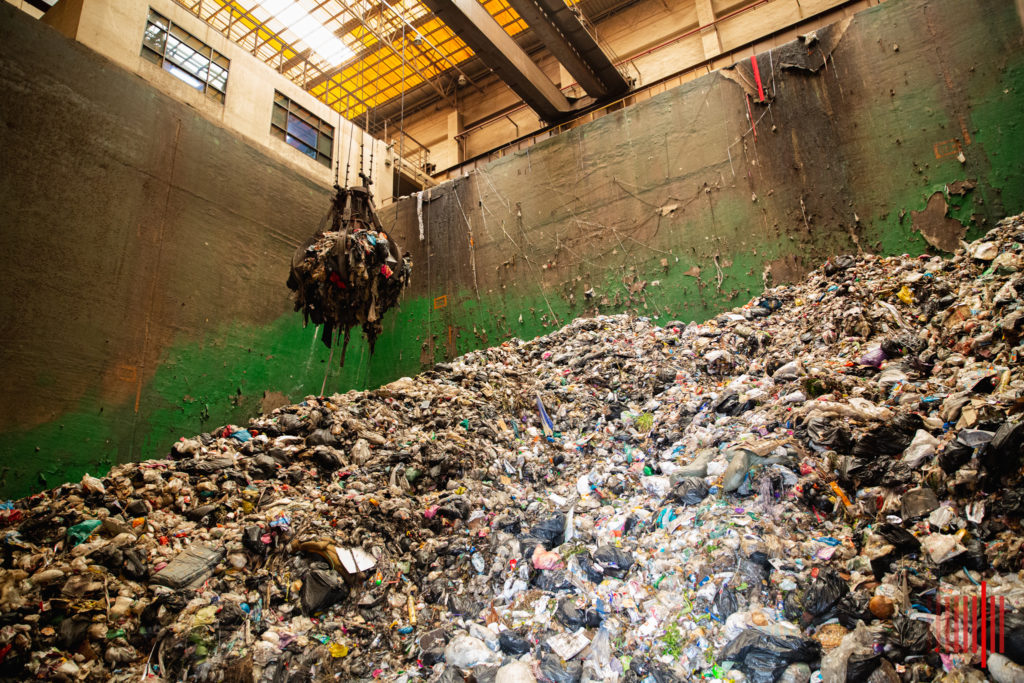 Piling food containers
In 2019, Bangkok produced an average of 10,500 tons of waste per day, said Chatree Watanakhajorn, director general of Bangkok's Environment Department. The number reduces to 9,004 tons per day after COVID-19 hit businesses, and malls and restaurants shifted to other services.
Although waste management finds more disposable food containers, they cannot determine the exact number. Waste sorting rarely occurs in the household, and segregation of all collected waste occurs at the facilities.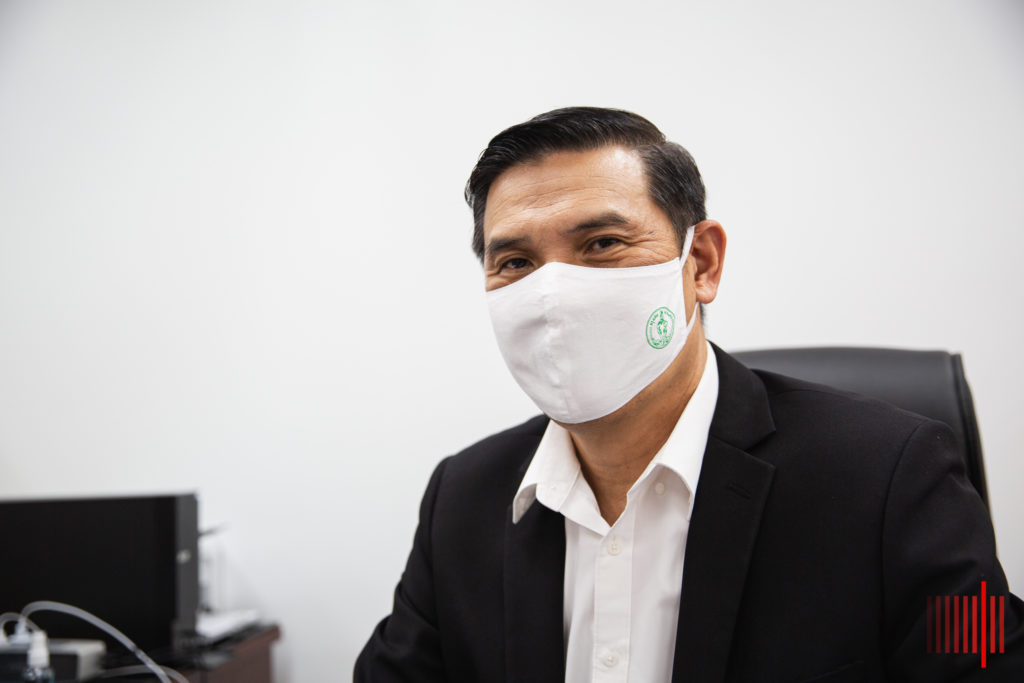 "Commercial organic waste made up 60% of the overall daily waste. It is heavy and damp, which adds weight and mass to the collection. When malls and restaurants cease services, commercial waste is significantly reduced. We found more food packaging, but this is a much lighter type of garbage, which decreases the number of collected waste as a whole," said Chatri.
Many restaurants confirmed that the amount of their food waste dropped by 50-70% after the authority prohibited dining-in service.
"It has to fall because customers no longer come to eat. Our sales and incomes are falling with waste too. Weekend delivery orders slightly help," said a noodle shop owner in Taling Chan district.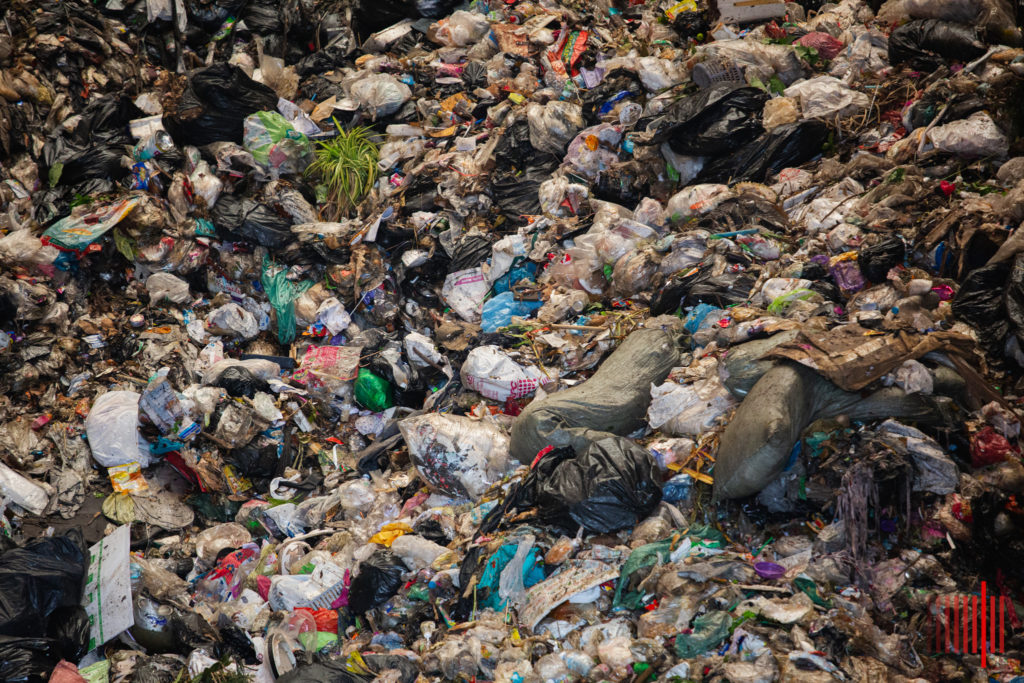 Infectious waste treatment
Bangkok's Environment Department encouraged citizens to dispose of used face masks, which are infectious waste, in closed plastic bags and label them. Waste collectors will segregate them in a separate container of the garbage truck.
Citizens can also discard used face masks in specific bins at all district offices, 69 public health centres, and 11 Bangkok City Hall-affiliated hospitals. Officers will collect the face masks in temperature-controlled trucks to contain the spread of the virus, and deliver them to incineration plants in On Nut and Nong Khaem.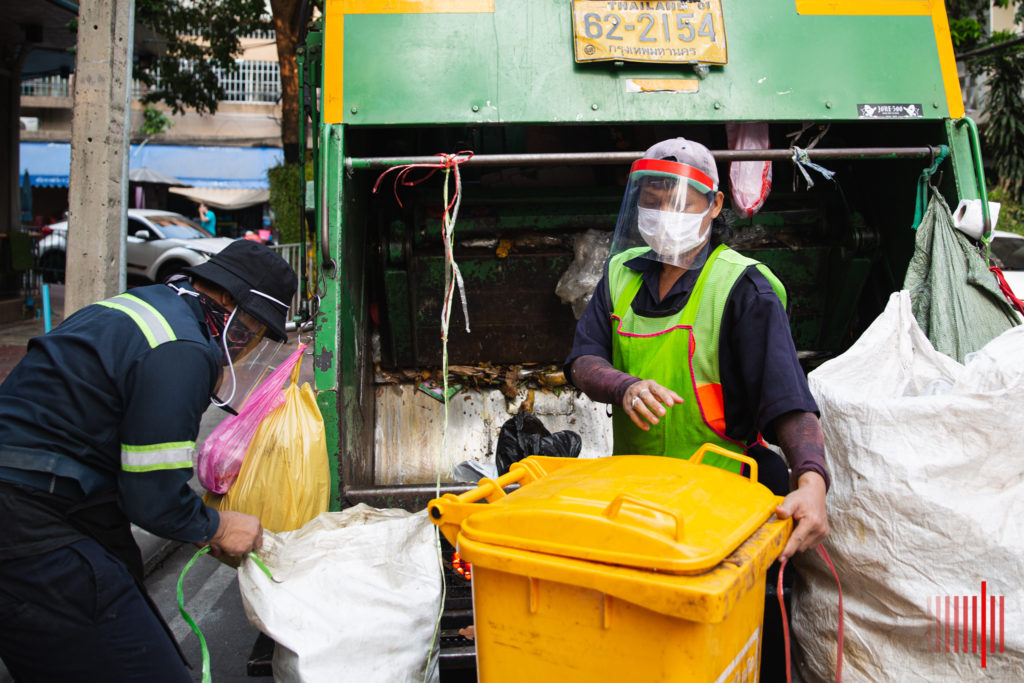 Bangkok City Hall assigned district offices to supply the operating waste collectors with PPE kits, rubber gloves, and boots. The waste collectors must go through a health check, and clean and disinfect themselves before and after their shifts.
Krungthep Thanakom, an environmental enterprise founded and held by Bangkok Metropolitan Administration, oversees infectious waste management. The enterprise regularly handles health-care waste from over 3,000 hospitals. As concerns of viral outbreak grew, Krungthep Thanakom also took up the task of managing the swelling number of used face masks. It has found an increase of 1.5 tons of waste per day from an average of 40 tons per day.