How the dissolved Future Forward Party sparks the youth revolt
On 21 February 2020, Thailand's Constitutional Court ruled for the dissolution of the Future Forward Party, banning 16 of its executives from politics for ten years. While the 507 day-old party is far from the first to suffer such a blow, it brings about a tremendous change in the Thai political landscape. Specifically, it sparks the blitz of young Thais who grow up during a decade of the tremulous period, and who were told that political engagement is for grown-ups.
Two decades of turmoil
Kids born during 1995-2000 spent their formative years seeing Thai society in a dishevelled, fragmented state. The divide that defines the period began in the early 2000s when former prime minister Thaksin Shinawatra faced allegations of corruption and defamation of the monarchy.
On the one corner is the Yellow Shirt–royalists, adamant oppositions of Thaksin's regime, embracers of military intervention. Their protests led to the 2006 coup that pushed Thaksin out into self-imposed exile. On the other corner, the Red Shirt–Thaksin's mostly grassroots supporters, benefitted from his populist policies, and felt that the coup stole and trashed their voices. The Red Shirt's Bangkok occupation in 2010 ended with 91 killed and thousands injured in a violent crackdown.
The dichotomy effectively divided Thais. Through the period of discord, friends and families who took opposite sides drifted apart. Anyone who expressed political opinion faced scorn from those who disagreed. Many parents kept politics out of their children's reach, believing this would protect them from harm the conflicts had caused. Collective notions that politicians are evil and politics are foul drove the kids even further away.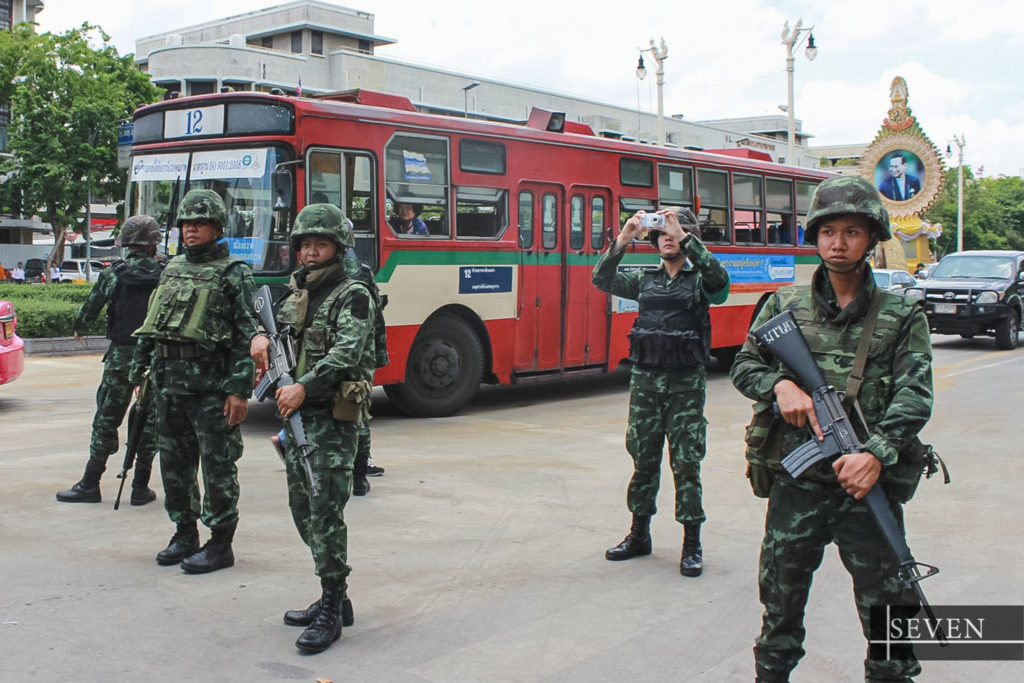 The coup and five years later
Following the protests against Yingluck Shinawatra, Thaksin's sister, General Prayuth Chan-Ocha launched a coup d'etat in 2014. People who had had enough with political strife welcomed the hotheaded general, preferring military rule to "corrupted" civilian government.
Prayuth held the prime minister position for five years, claiming to maintain "peace and order" which he achieved by banning political gatherings altogether. Throughout his ruling, over 600 people were arrested for protesting and criticising the regime. Fear seeped through the nation as political activists faced charges and harassment. Coupled with the history of violent crackdowns, no Thais dared to go on to the street.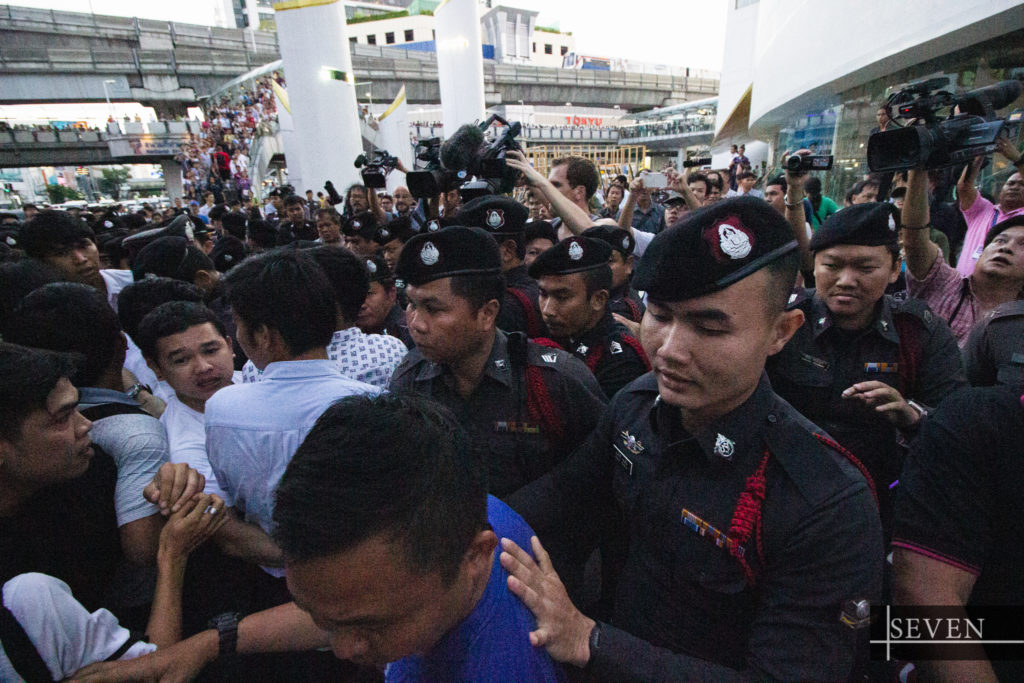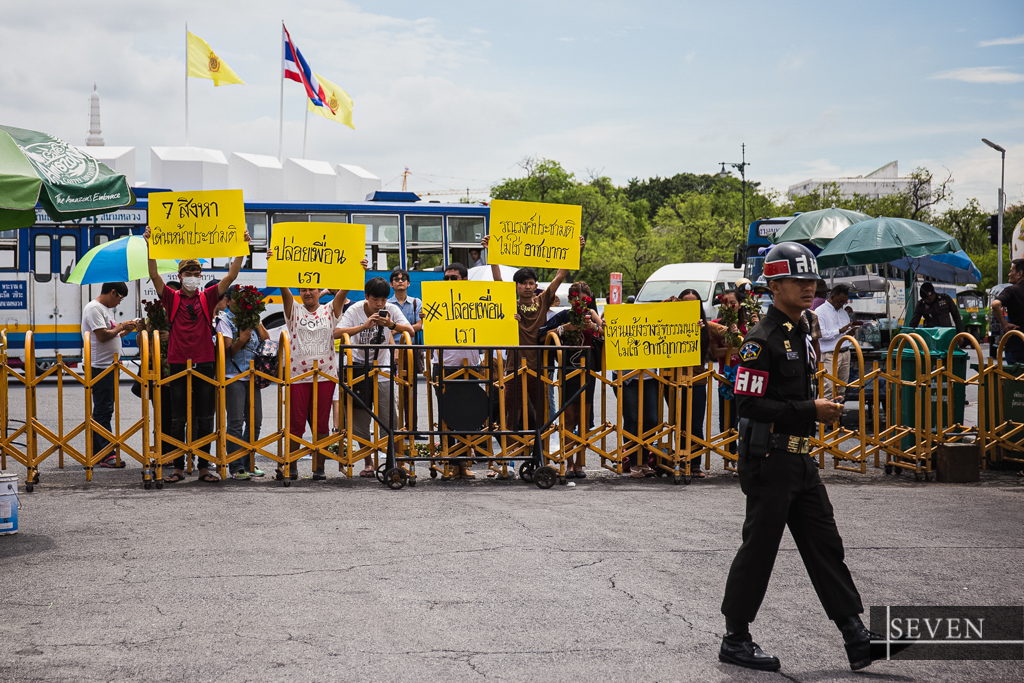 However, oppression could not silence the netizens. Under young Thais' watchful eyes, Prayuth became a frequent laughing stock for his irreverent remarks and ridiculous advice. Meme makers and cartoonists captured Prayuth's daily absurdity and lampooned his caricature-like manners.
Allegations of corruption attracted progressively widespread criticism. After deputy PM Prawit Wongsuwan was cleared from his luxury watches scandal, internet users called the military and its supporters hypocrites for bypassing the wrong of their own. Surging military budget in the plummeting economy only added insult to the injury. It became apparent that the junta's claim to get rid of corruption is a ruse.
Still, the discontent only grew on social media. Few activists on the street fought alone.
A taste of long-lost hope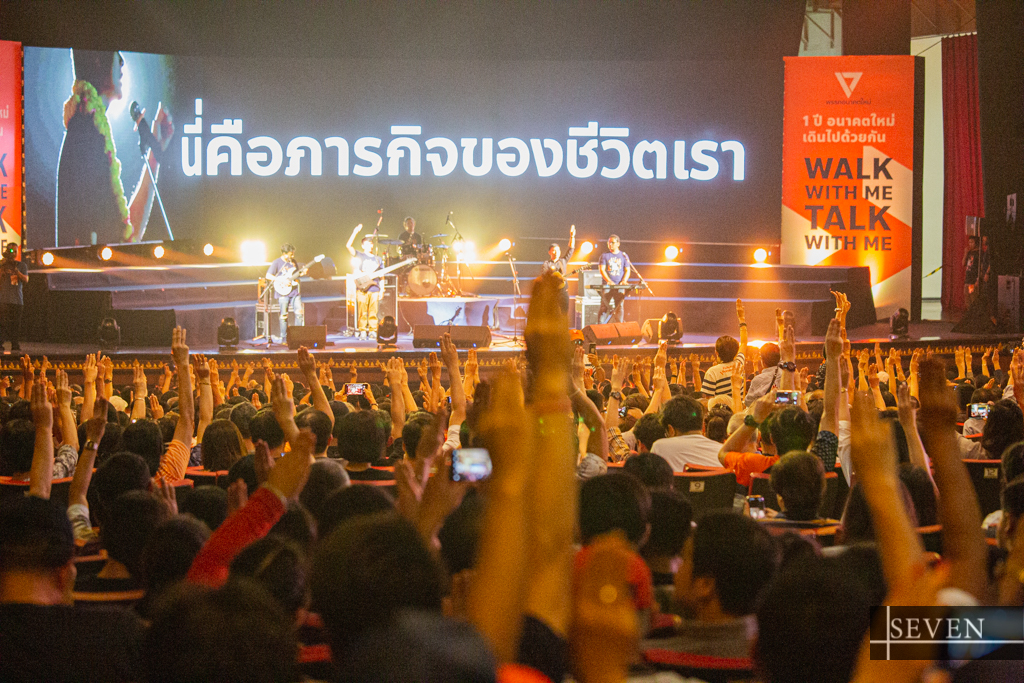 Future Forward Party was founded in 2018 by business tycoon Thanathorn Juangroongruangkit and law professor Piyabutr Saengkanokul. Presenting itself as an alternative choice differing from old, colour-coded politics, Future Forward Party championed more progressive issues. They promoted welfare state, minority rights, military reform, and the amendment of the junta-drafted 2017 constitution. Instead of ex-MPs or relatives of political veterans, common choices for most political parties, FFP recruited (relatively) young fresh faces who never participated in national politics. This included political and social activists, LGBTQI activists, and ethnic minorities.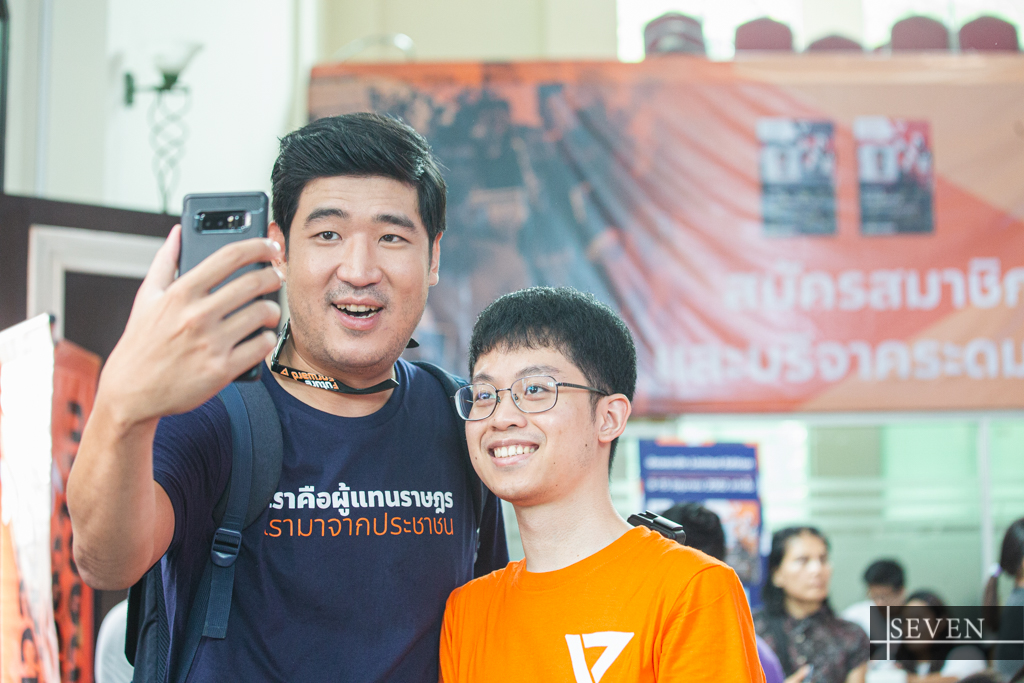 Speaking the same language as the youths, FFP instantly became popular among young Thais through its savvy use of social media campaigns. It slammed dirty, old-styled, cronyistic politics, and asserted Thailand need not stay that way. It reminded the youths that they, too, have a voice, that they can change the way things are, and that young Thais deserve a future–the one they create, not the frozen-in-time one forced by powerful old men.
Thai youths, even those too young to vote, responded eagerly to this encouragement. They bombarded Twitter with witty, funny commentaries on the latest political news. They exchanged critiques of deep-rooted structural problems in Thailand and mocked old, imbecile people in power. More and more spoke out against the abuse of power in the hand of adults and called grown-ups out on what they see as nonsense.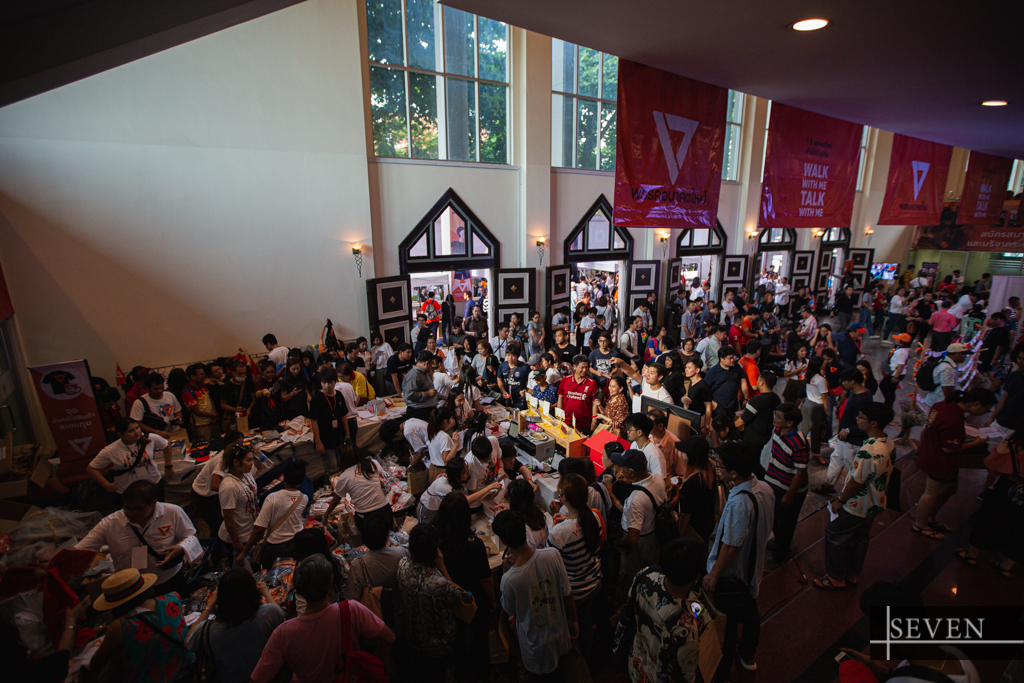 In the country that highly values seniority, the older generations are seeing, to their horror, a party that indoctrinated their kids to talk back at them.
Establishment strikes back
Despite being looked down upon by political old-timers and slandered by its opposition, Future Forward managed to win over 6 million votes in the 2018 election, earning it 81 parliamentary seats. It ranked third behind the Pheu Thai Party (Thaksin affiliated) and Palang Pracharat Party (military backed,) sending shocks throughout the country.
Right after the election wrapped up, Future Forward Party and the members soon found themselves engulfed in lawsuits, which they said are politically motivated. A day before the new parliament commenced, the Constitutional Court suspended Thanathorn's MP status.
Another case accused the party of sedition and linked its inverted triangle logo to the Illuminati. The court, probably to the dismay of conspiracists, dismissed the case.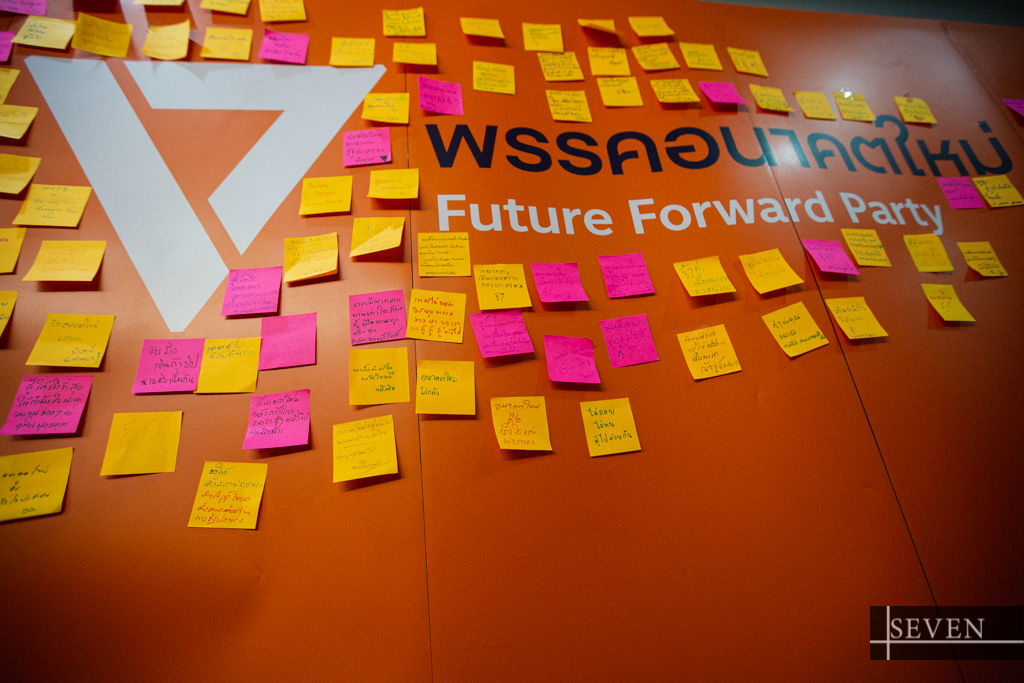 On 21 February 2020, the Constitution Court ruled Thanathorn's loan money to the party illegitimate and dissolved the party. It banned Thanathorn, along with other executives, from politics for ten years.
Had the establishment revelled in this removal of the thorn in its side, confident that youngsters would only complain and move on, it would soon regret it.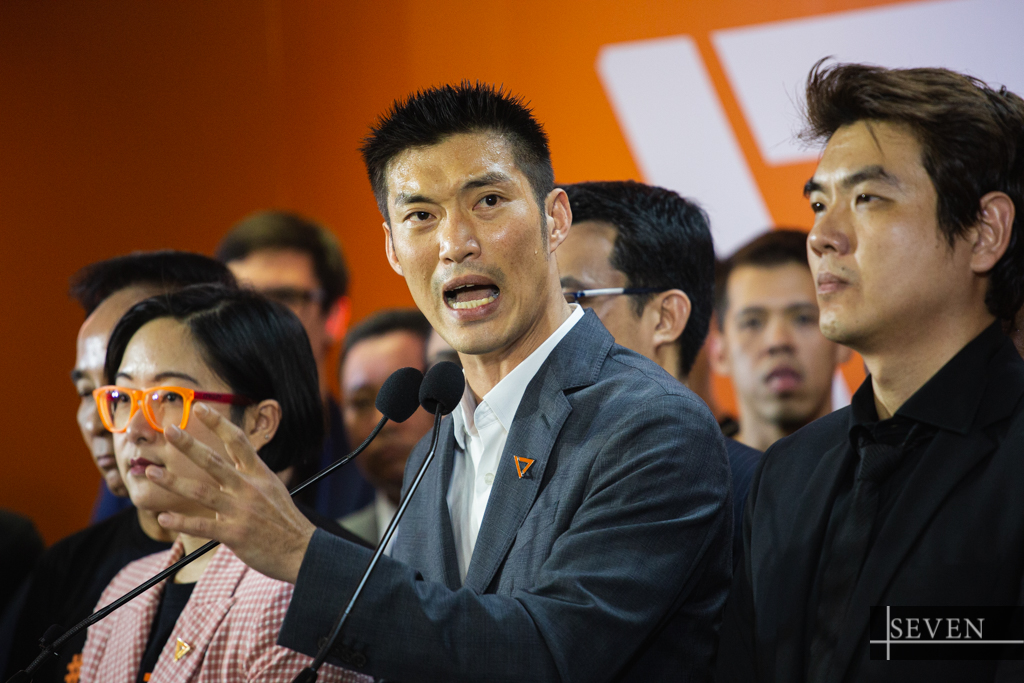 The dominoes start falling
Merely hours after the Constitutional Court finished the reading, students at Thammasat University gathered in a peaceful flash mob to protest the verdict. Chulalongkorn and Kasetsart held similar protests on Monday. One university after another follows suits, setting off a chain of creative, pun-tactic hashtag trends to summon fellow students and likeminded folks out of Twitter.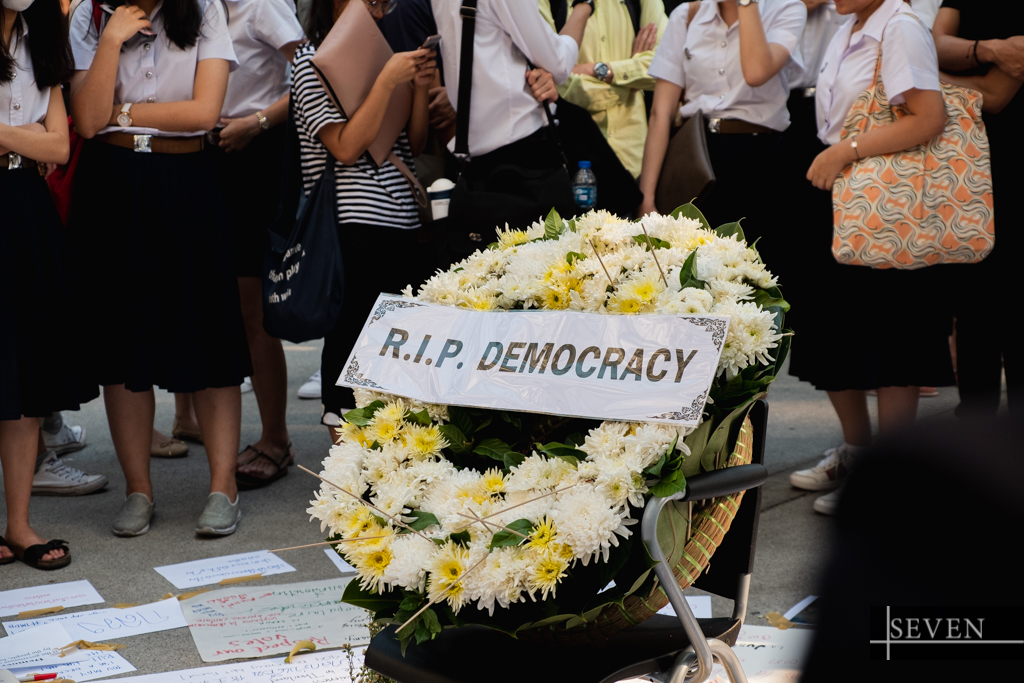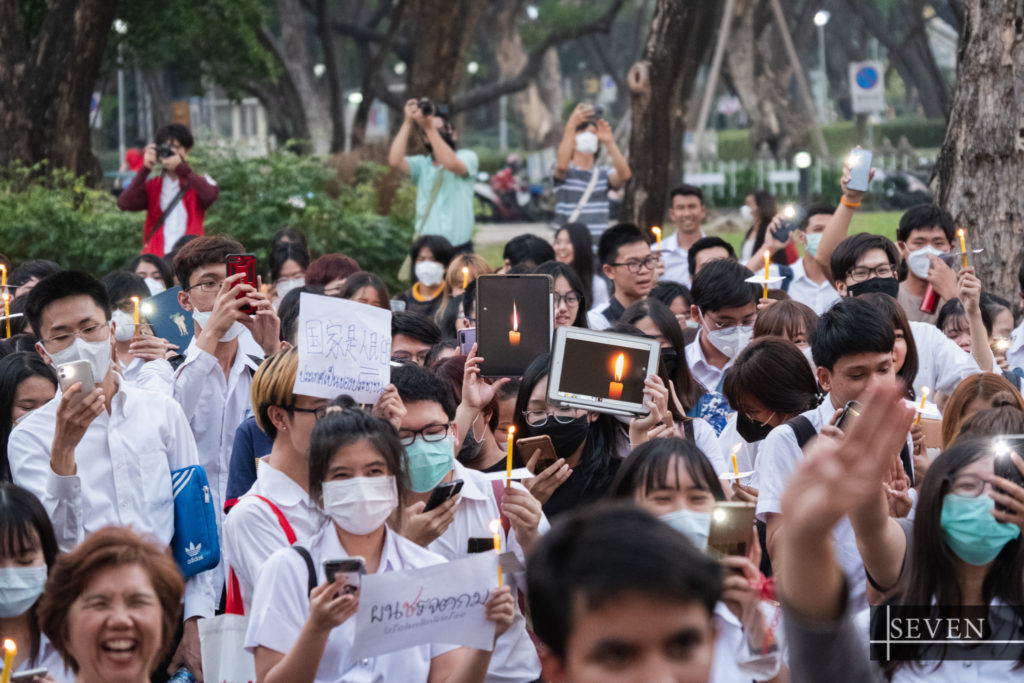 At protests, students take turns making speeches. They decry the justice system that allows nine old judges to put out 6 million voices who chose hope. The 20s-year-old protesters express resentment towards powerful old men who will soon perish but have determined the grim direction this country is going. Lots of attendees voice out their frustration of seeing no future ahead of their lives.
Internet lingo makes an offline debut on banners. Memes and internet jokes spurt from tweets to the streets. The protesters hold placards with coded phrases that leave older observers scratching heads, but receive knowing, approving nods from attendees of the same age. Abbreviations allow them to address taboo issues in the open-air, encrypted in a language youths understand but discreet enough to confuse the authority.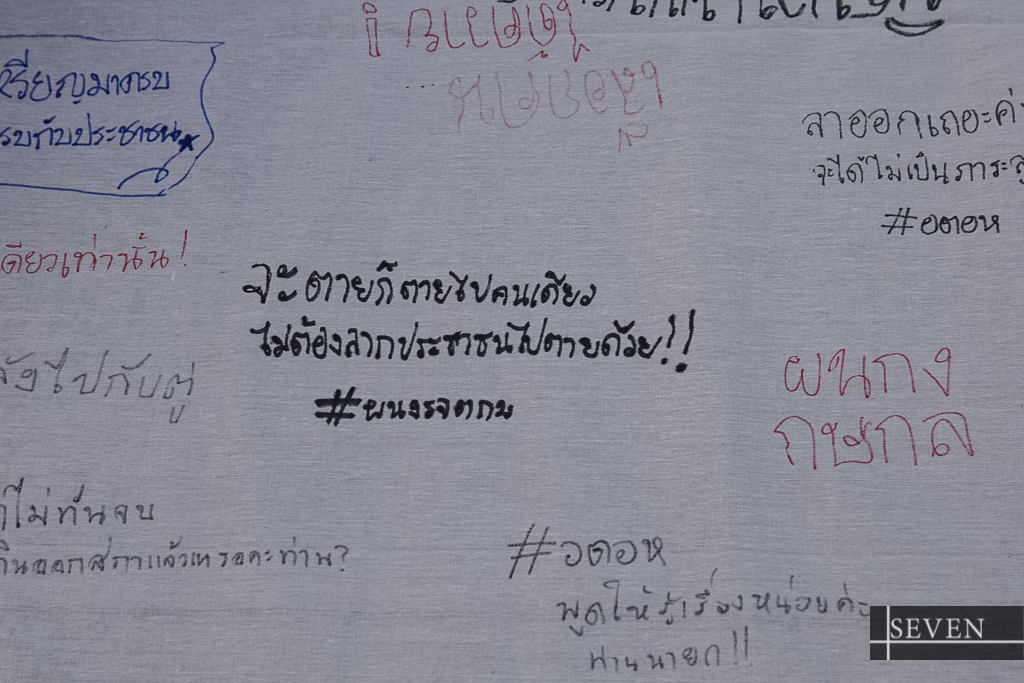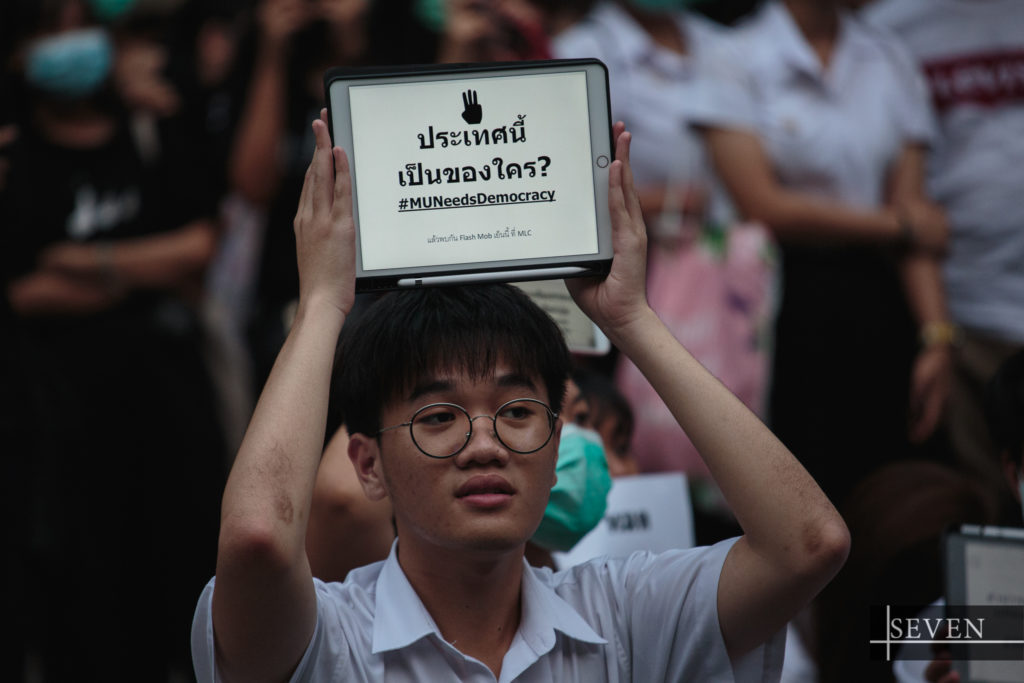 Most interestingly, the protesters say they are not there to support the Future Forward Party. Their fury has extended far beyond that.
The party's dissolution is but a single instance of injustice. Students have accumulated years of grievance towards older people, who they say have robbed and destroyed their future. Their online presence was snubbed as a naive, credulous action that could lead nowhere. When the only party that represents them was done for, the youths take it as a personal attack. They take the snarky tweets on to the street.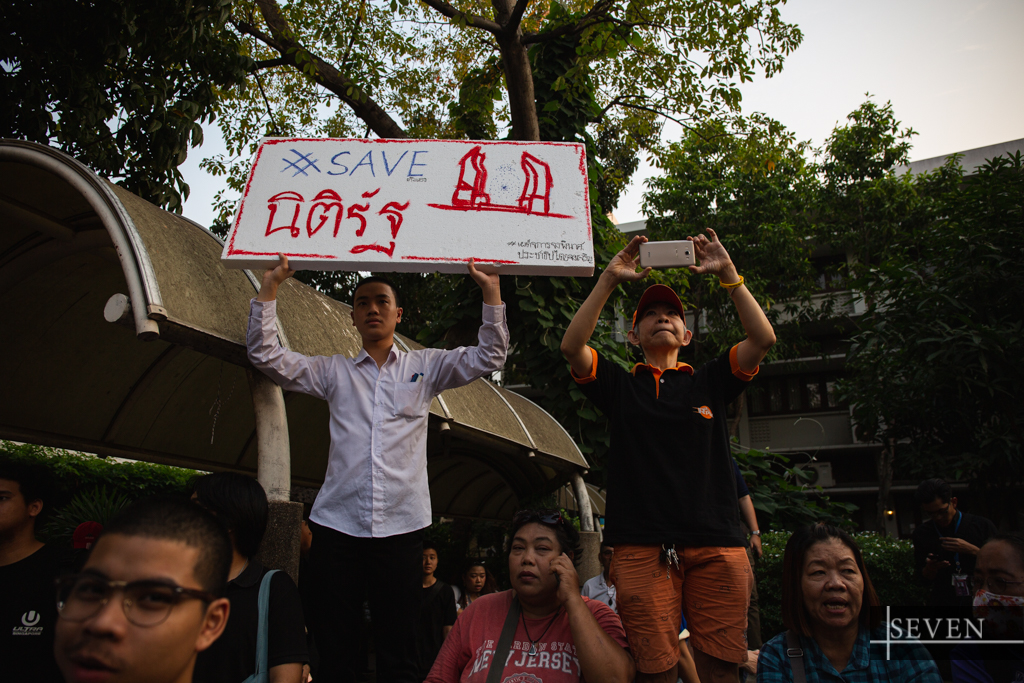 What Future Forward did and succeeded during its short lifetime is establishing the "new generation" as a political identity and a force to be reckoned with. The young generation of Thais is shouting in unison that they will be neglected no more. It is too soon to tell where this phenomenon will go, but one thing is clear; the paradigm has shifted. A new chapter of Thai political history has begun.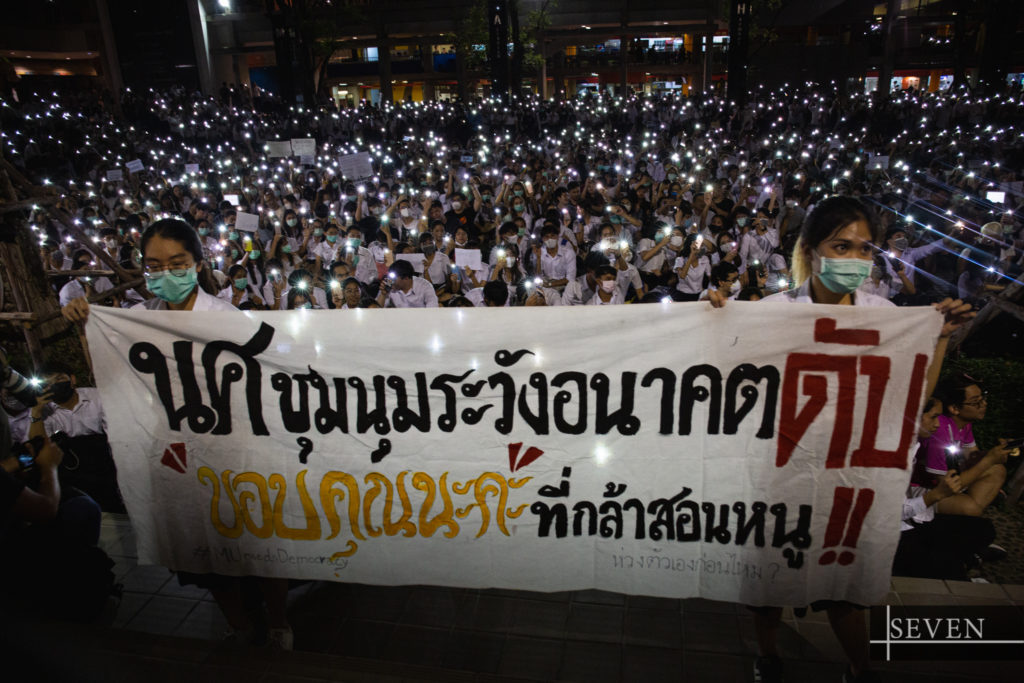 Edit: Added the political gathering ban clause. (13:42, 28 Feb 2020)