Eating in Thailand: Noodles and How to Order Them
Thai street food holds a permanent place at the top cuisine lists–that is a fact. Even if you don't agree, you might have heard names like Pad Thai, Tom Yam Kung, Som Tam, and Green Curry. Setting those familiar names aside, there is one other dish that Thais love: noodles. Some even have them everyday!
Guay Tiaw, a blanket term for Thai noodles, is a derivation of guǒ tiáo (粿條), a Chinese word which refers to rice noodles and a dish of rice noodle soup. While this indicates that Thais likely adopted the dish from the Chinese immigrants, it is not clear when did noodles become integrated into Thai society.
Today, you can see Guay Tiaw shops and Ba-Mee stalls in about every corners in town. Noodle dishes are popular choice for lunch and late-night meals, as it takes only a few minutes to prepare (not as quick as sandwich, but would you rather have a sad, cold pair of bread slices when you can get a hot, hearty bowl of noodle soup?) In this article, we will guide you through a variety of noodle dishes and how to order them.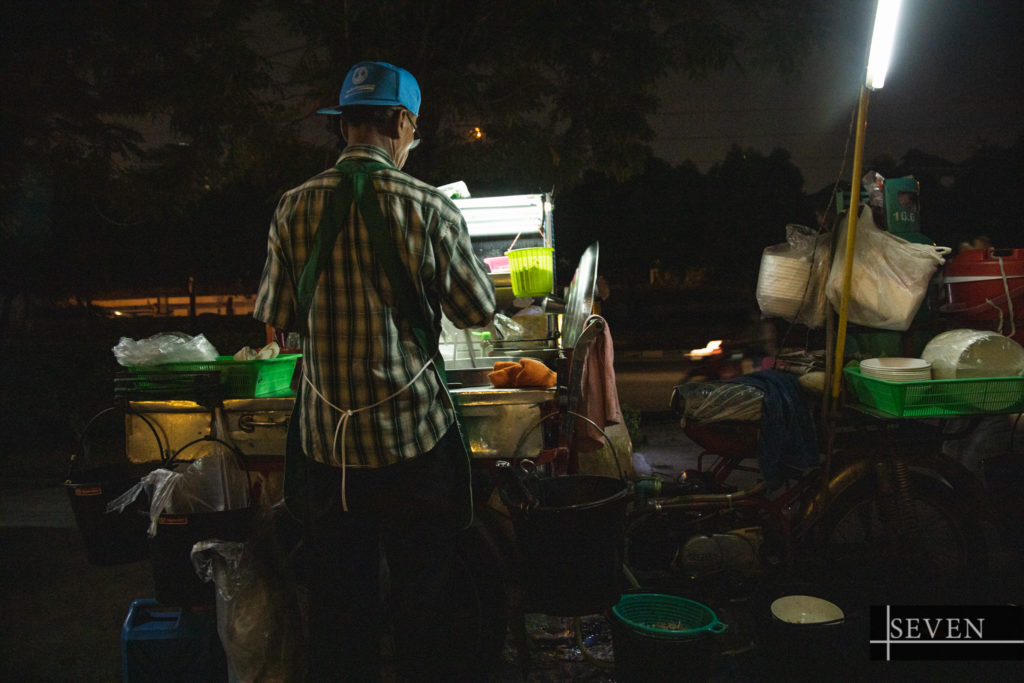 Types of Dishes
Beef Noodles (Guay Tiaw Nuea)
Most beef noodle shops have that decade-old, operating-for-three-generations look to them. Standing in the front is a giant brass pot where a distinct Chinese herb aroma comes from. Beef noodles are rich in flavour. Its brown broth made of stewed meat and beef innards give a savoury kick that will surely satisfy beef lovers. One bowl of beef noodles consists of noodles, vegetables, beef balls, stewed meat, and assortment of innards–heart, liver, stomach, intestines, tendon, and tongue–which you can opt out if chitterlings are not your thing. You can also order Gao Lao, the beef soup without noodles, and have it with steamed rice.
Braised Pork Noodles (Guay Tiaw Moo Tun)
Some beef noodle shops offer braised pork noodles on the menu. Much like the beef counterpart, the noodles are topped with pork balls, braised pork, and rib. The pork broth has a lighter brown colour and is quite sweet, with Chinese herb scent. A lot of Thai people hold a belief that eschews beef, but they can enjoy the briny, rich noodles with Guay Tiaw Moo Tun all the same.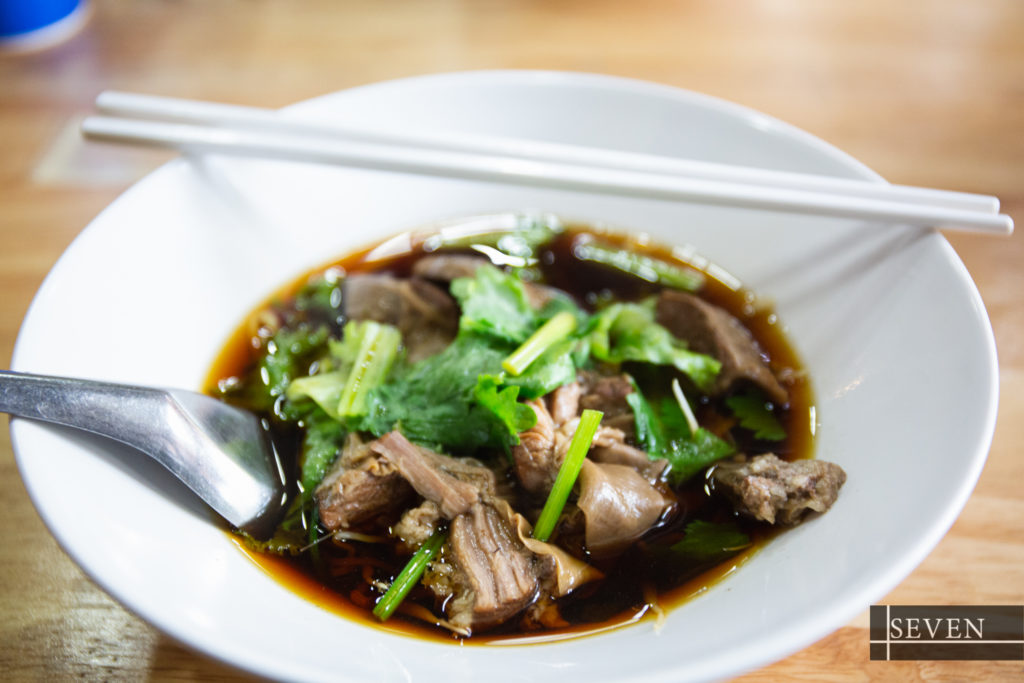 Stewed Duck Noodles (Guay Tiaw Ped Tun)
Thanks to dark soy sauce stewed duck broth is dark in colour and rich in flavour. You will see stewed ducks hanging on display in the glass cabinet. The toppings of the noodles are duck meat, gizzard, liver, intestines, and duck blood. Stewed duck noodles are sweeter and saltier than beef noodles, but less aromatic. Most shops also sell parts of duck like feet, wings, neck, and head that you can order for extra chewiness.
Chicken With Bitter Gourd Noodles (Guay Tiaw Gai Mara)
An unusual combination for foreigners, Guay Tiaw Gai Mara is noodles topped with shredded chicken boiled in soy sauce, bitter gourd, chicken blood cube, and chicken feet stew. Dark soy sauce is the key ingredient that adds sweetness and saltiness to the chicken broth, which some people like to enhance with vinegar and ground chilli for a packed full flavour. You can order chicken leg stew as a side.
Boat Noodles (Guay Tiaw Ruea)
This is perhaps the most famous interpretation of Thai styled noodles. Boats were the main method of commuting back in the days before roads replaced canals. Vendors carried their goods, in this case, noodles, on their boats and paddled to serve freshly-made noodles at their customers' docks. Now the canals are no more, but boat noodle shops usually display a tiny boat as a homage to its origin.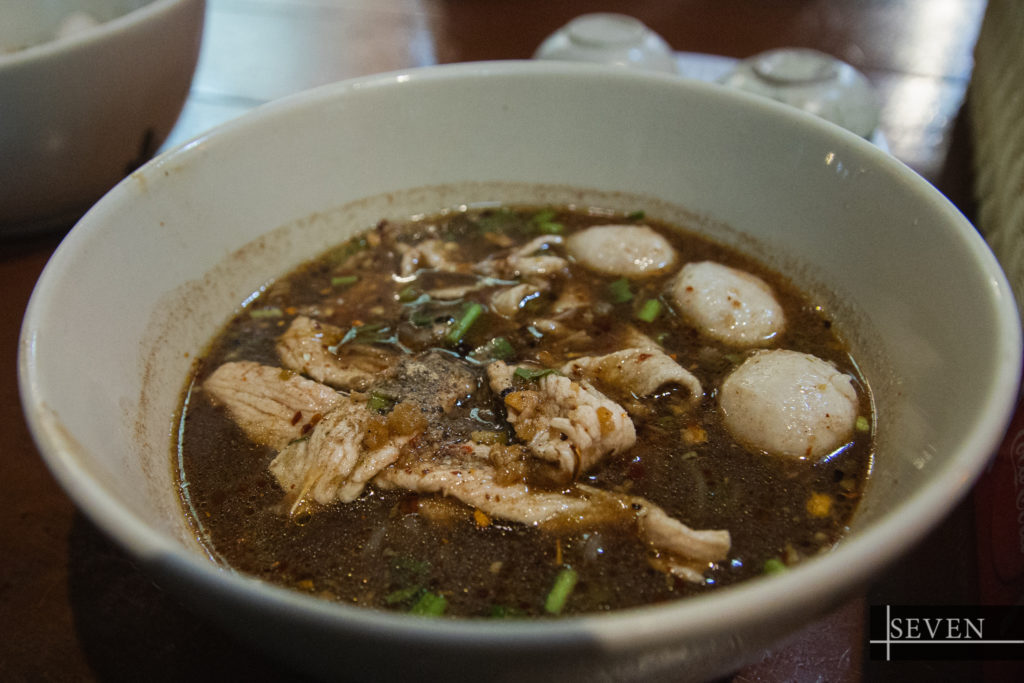 Boat noodles are served in a small portion, and it is common that one person orders 3-4 bowls. Customers can choose between pork and beef, and clear soup (Nam Sai) and blood soup (Nam Tok) which makes the broth thicker than the beef or pork noodles mentioned above. Other ingredients are bean sprouts, morning glory, and pork or beef balls. Some stalls will also add chilli paste, but every stall will provide you a condiment set consisting of sugar, fish sauce, chilli vinegar, and chilli powder. Good for someone who seeks an inherent Thai noodle dish or is up to a challenge with friends–finishing the most and stacking the tallest tower of bowls.
Wonton Noodles (Ba-mee Kiao)
If you are familiar with Hong Kong style egg noodles, this dish bears some resemblance. Egg noodles are served with Chinese spinach and golden, clear pork broth that is sweet and mellow with a bit of saltiness. Ba-mee stalls usually display red BBQ pork, crispy pork, and roasted duck, which you can choose to top your bowl as well as wonton. Some people prefer "Ba-mee Haeng," literally dried egg noodles, and the shop will give a small cup of broth on the side. Ba-mee Kiao is an easy dish for less adventurous eaters.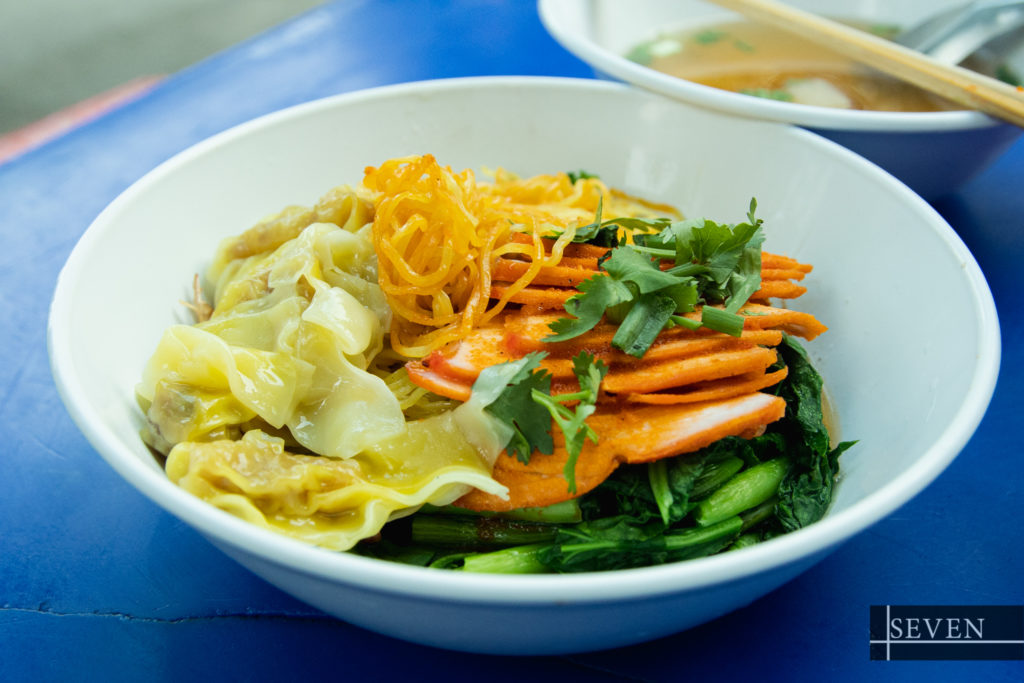 Yentafo
Yentafo is derived from Yong Tau Foo; a Hakka Chinese word for pork-stuffed tofu. For modern-day Thais, Yentafo is pink sauce noodles topped with Hainanese fish balls, shrimp balls, crispy squid, pork ball with tofu, and morning glory. The sweet and sour taste of the iconic pink sauce comes from vinegar, chilli sauce, and Fermented tofu. Complete with soft, chewy fish balls and you have one yummy Yentafo.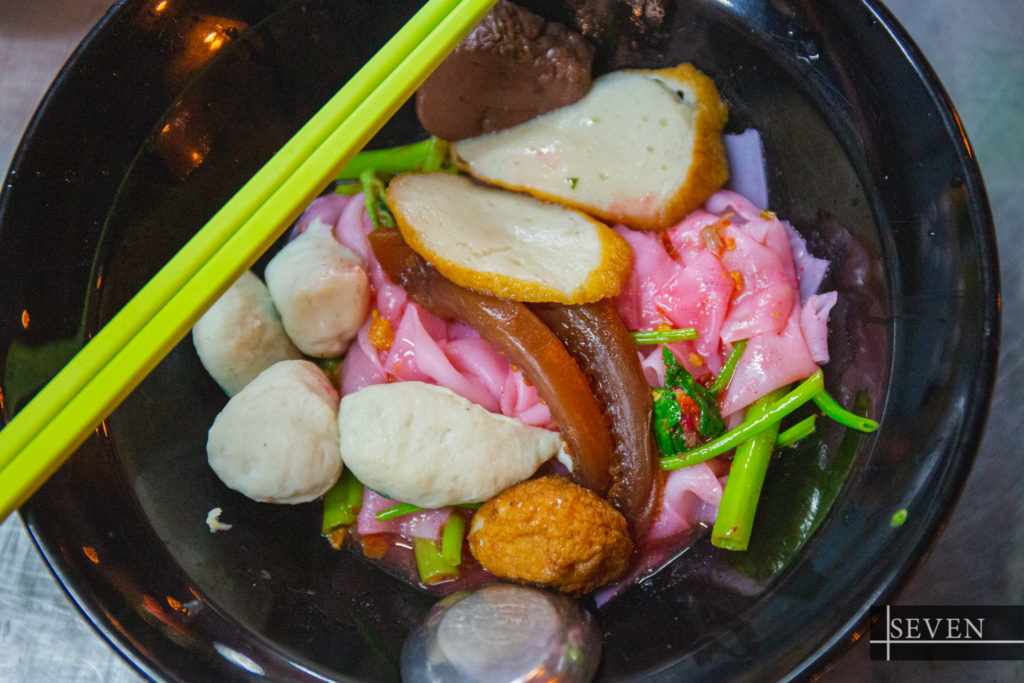 Tom Yam Pork Noodles (Guay Tiaw Moo Tom Yam)
Tom yam pork noodles are topped with pork balls, minced pork, and boiled egg, filled with clear tom yam soup and ground peanut. Chilli paste and lime bring the dish a bright sour and spicy finish. You can also have it dry to enjoy the full crunch from ground peanut. A must-try for those who like their lunch spicy.
Of course, Thai dishes that include glutenous strings do not stop here. There are the world-renowned Pad Thai, stir-fried Pad See Eiw and Pad Mee, gravy-topped Rad Na, and Chiang Mai staple Khao Soi.
Now, back to Guay Tiaw…
How to order
One noodle bowl consists of noodles, vegetable, meat or protein, and soup. There are 3 steps you'll have to follow.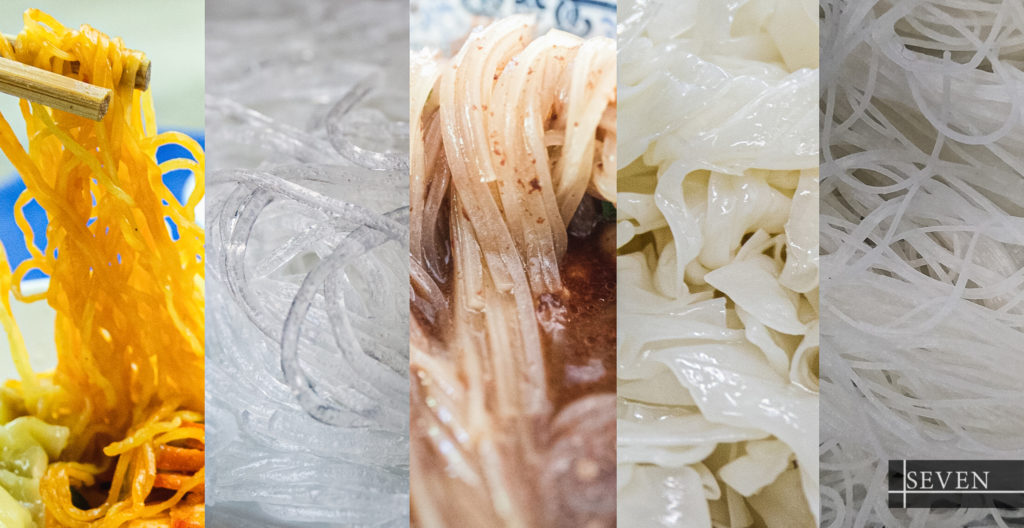 1. Choose your noodle
There are 4 main kinds of noodles that every shop should have.
Sen Mee or Mee Khao is made of rice flour. The smallest type, Sen Mee resembles capellini pasta and is suitable for almost every topping and broth.
Sen Lek is also made of rice flour. It is used for Pad Thai, and is regarded as the standard choice for the boat noodles. Sen Lek is thicker and denser than Sen Mee. Some might say it gives an 'al dente' feeling.
Next is Sen Yai, the largest one. Unlike Sen Mee and Sen Lek, which are stored dry, Sen Yai is mostly made fresh, and is softer in comparison. This wider variation is a popular choice for Yentafo.
The Last on is Ba-Mee or Mee Lueang. Ba-Mee is egg noodles like those you find in Chinese cuisine. Mostly eaten with wonton, red BBQ pork, or roasted duck.
Other types you might come across are bean vermicelli (Woon Sen), short, stiff noodles (Giam Ee), instant noodles (Mama or Wai Wai), and bean sheet noodles (Sen Shang Hai).
2. Choose your topping
Pick beef or pork if the shop offers you the two options. Choose or opt out anything in the bowl. Common choices are no veg (Mai Pak), no chicken or duck feet (Mai Teen), no offal (Mai Krueng Nai), no beef or pork ball (Mai Chin). You can ask for extra portion of everything (Pi Sed) too.
3. Choose your soup
Some types of noodles have the options of clear soup (Nam Sai), blood soup (Nam Tok), or Tom Yam soup. You can order your noodles with (Nam) or without soup (Haeng). You can also ask for soup in separate bowl (Kor Soup Yak) too.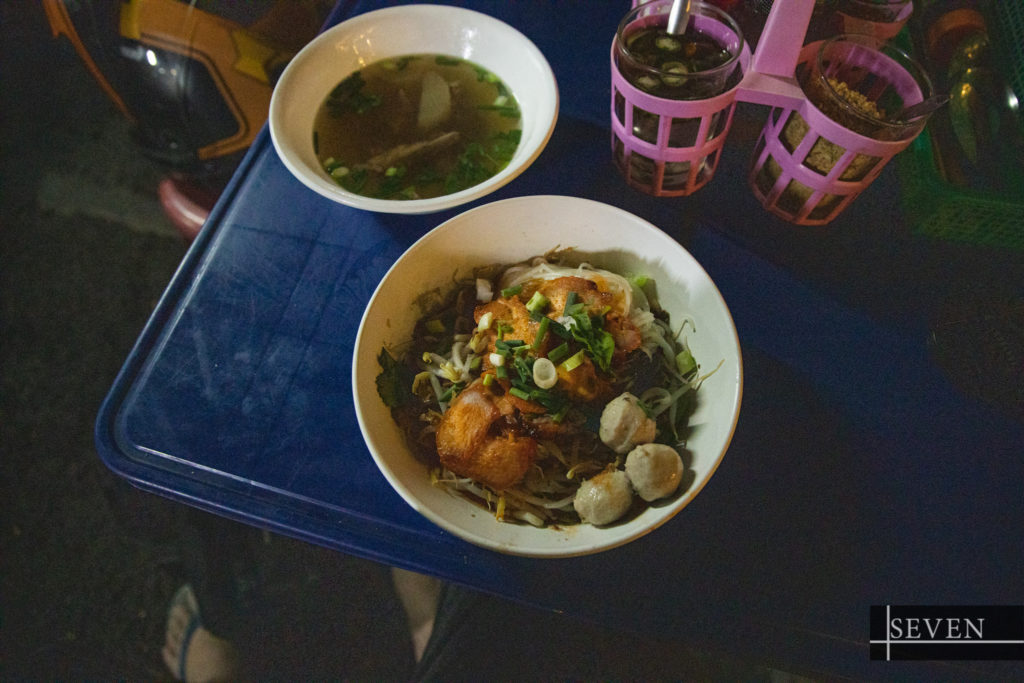 Most importantly, finish your order with "Phed Noi" (less spicy) or "Mai Phed" (not spicy) if you are not sure about your capsaicin tolerance.
With these basic steps, let's order one. If we were to order small noodle with beef, no offal, no veg, and clear soup, it will be Sen Mi (Small Size noodle) Nuea (Beef) Mai Krueng Nai (No offal) Mai Pak (No Veg) Nam Sai: "Sen Mi Nua Mai Kreung Nai Mai Pak Nam Sai". Voila, a bowl of Beef noodle!
If you find these steps too troublesome, just choose one type of noodles and try whatever they put in your bowl. It is always an eye-opening experience to have something truly local, something different.
To perfect the meal
Have a taste test first. You can season your noodles with sugar, fish sauce, chilli vinegar, and ground chilli provided on the table. Many noodle shops come with side dishes that already put on the table, such as deep-fried pork skin and deep-fried fish skin.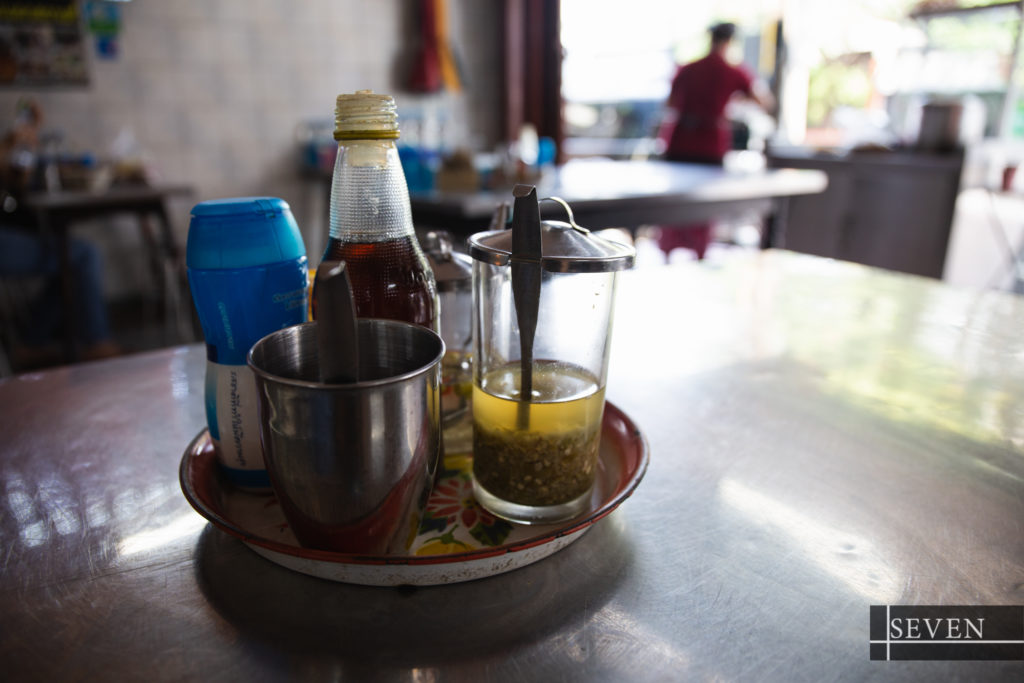 Now go out to the stall at that corner and have a hearty bowl!