Meet people who "drive" lockdown Bangkok
Once a buzzing metropolitan, Bangkok seems unnervingly empty under the COVID-19 lockdown. Schools, universities, shopping malls, markets, and other public places were shut down in an attempt to control the spread of the coronavirus. Companies implement work-from-home practice. Citizens bar themselves from going out. Meanwhile, a group of people still navigate through the streets to pump lives into the capital.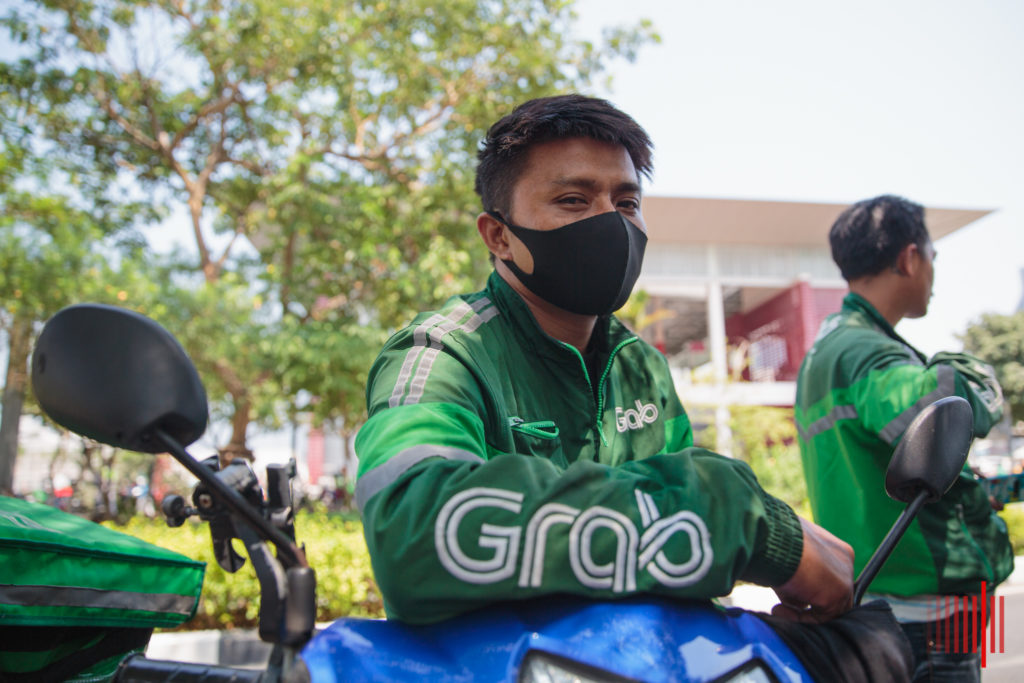 "Poverty is more frightening. Everything costs money. The landlord still calls for rent, and I have to eat. So I need to bring my motorcycle out for work," Jack, a 39-year-old food delivery driver, recounted his life in the virus-stricken city.
In one of the preventative measures, the authority prohibits restaurants from dining in service. Orders through the food delivery applications rise, but Jack's income does not follow. More orders equal longer queues.
"I used to make about 20 rounds of delivery per day. Today is still the same, but more orders from customers mean more food drivers in queues. There are lesser operating restaurants, and we drivers have to wait longer. Sometimes I had to wait for an hour. When I cannot complete more delivery orders, I do not earn more as people believe," Jack explained.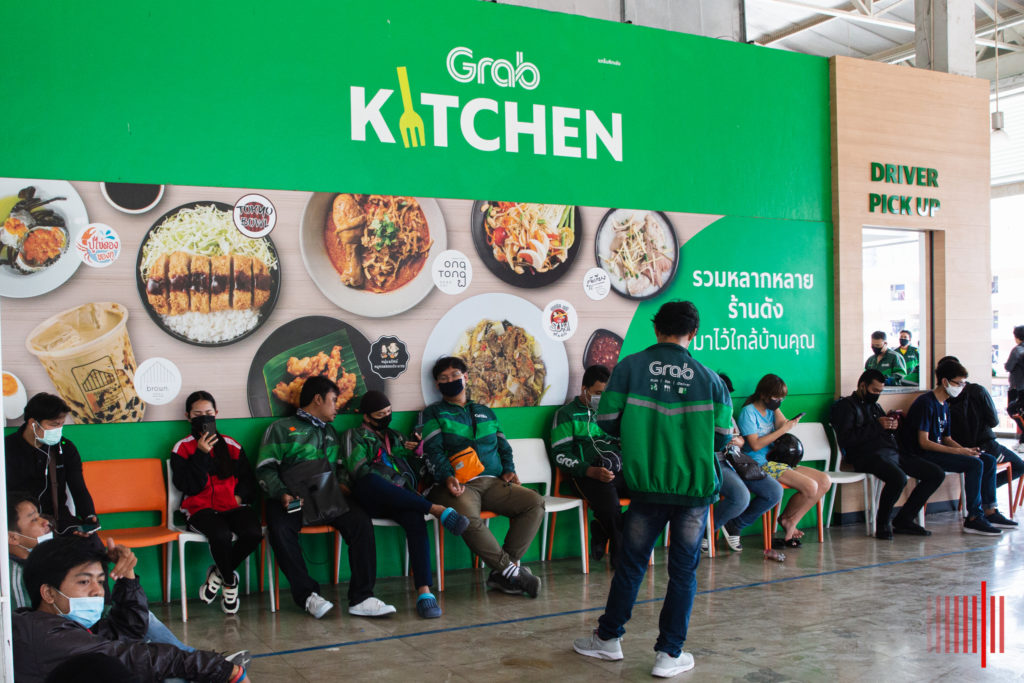 Asked about the fear of catching the virus, Jack said that riding a motorcycle on the street does not concern him. He is, however, worried when he has to enter a building, as enclosed spaces pose him more risk of getting infected.
Requesting the customer beforehand to come out and collect the order, and turning down if the customer refuses to agree, is a solution that Jack adopts. This measure helps him reduce the chance of being in a closed room, such as a lobby of an apartment complex.
The application system compels him to have the customer's agreement before accepting the order. If he cancels the order or does not meet the cap, he needs to make more rounds to make ends meet.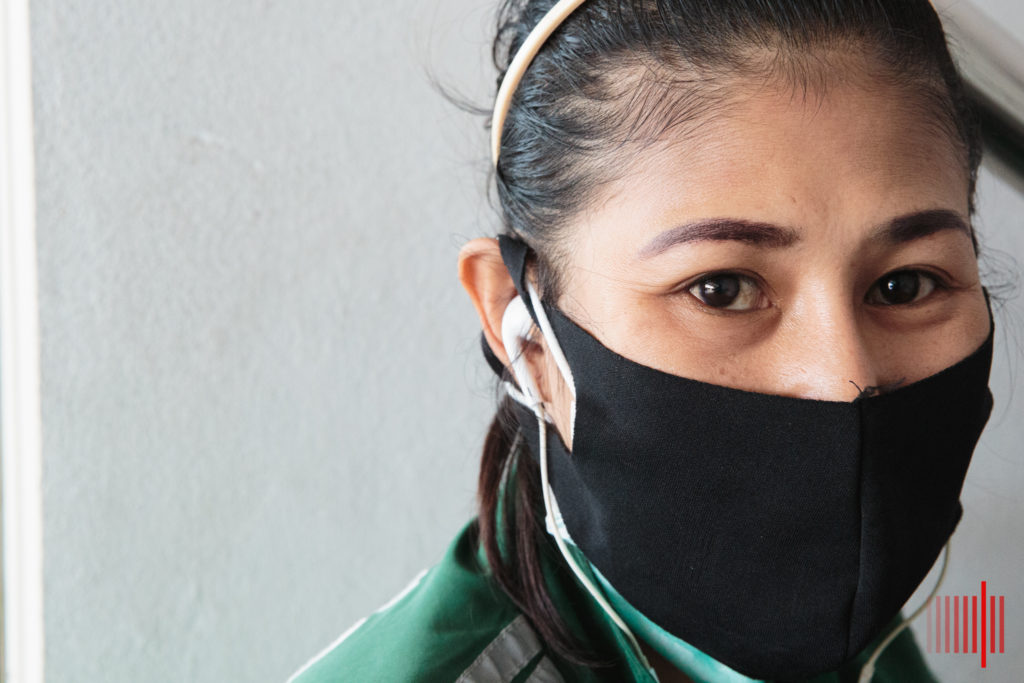 Passara, age 39, works mainly as a motorbike taxi driver while doing food delivery on the side. She said that the COVID-19 crisis makes it difficult to make a living as a motorbike 'Win' rider, with the closure of workplaces and schools. She resorted to food delivery instead.
"My primary source of income has gone, so I have to accept more food delivery orders, but the food preparation time is so long. Famous restaurants, in particular, take a long time to collect the order. The company does not really facilitate or provide us anything. If I want a sufficient income, I need to reach a certain amount of orders. With these long queues, that is impossible," Passara sighed through her black mask.
"Am I afraid of the virus? Of course. But I'm more afraid of starvation."
When asked about her opinion on the government's actions, she quickly responded, "they locked the stable after the horse had been stolen. Their measures push burdens on working people."
For these food delivery drivers, poverty threatens their lives more than the disease. They do not earn more from the crisis; working hours increase, health risks heighten, but their payments do not.
Incomes gone, expenses stay
At a university campus in Bangkok, two motorbike 'Win' taxi riders sat on plastic chairs in boredom, sliding endlessly through their phones. Another rider lay on a mat next to the pricing sign.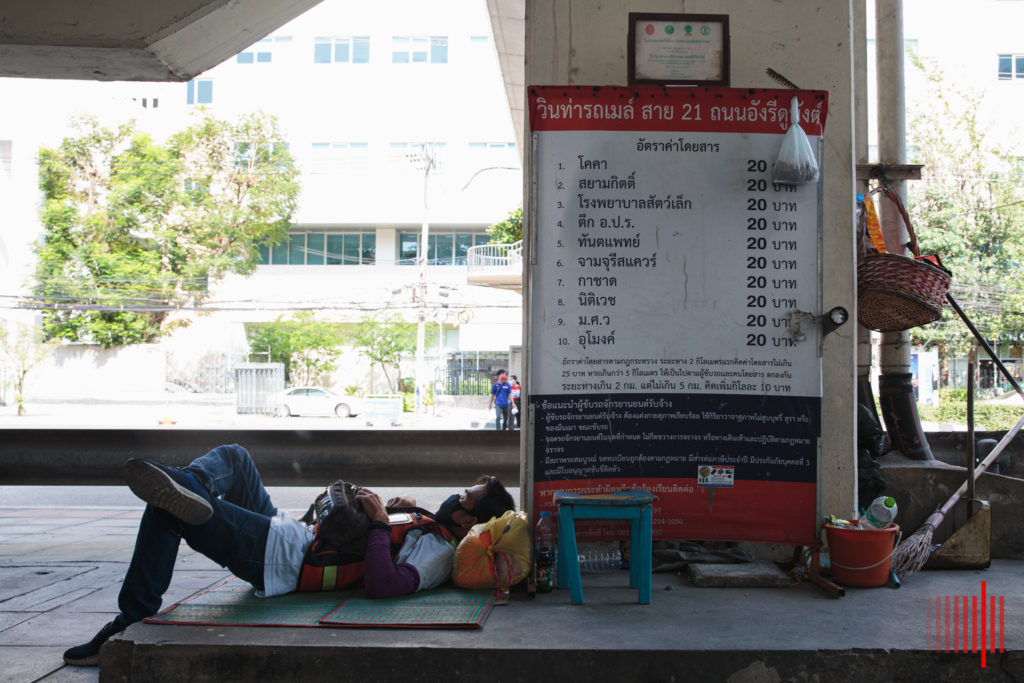 One of the riders is Subhap, a 50-year-old native of Phayao province. He told his story with a smile on his face and pain in his eyes.
"Am I afraid of the virus? Yes, I am. But I need to work. I want to stay home too, but I don't get a salary. I have to live from payment to payment."
Subhap said his income took a huge hit. Previously making almost 1,000 THB per day, he now earns 100-200 THB. Workplaces that cease operation or opt for work from home measures have decreased the number of commuters significantly.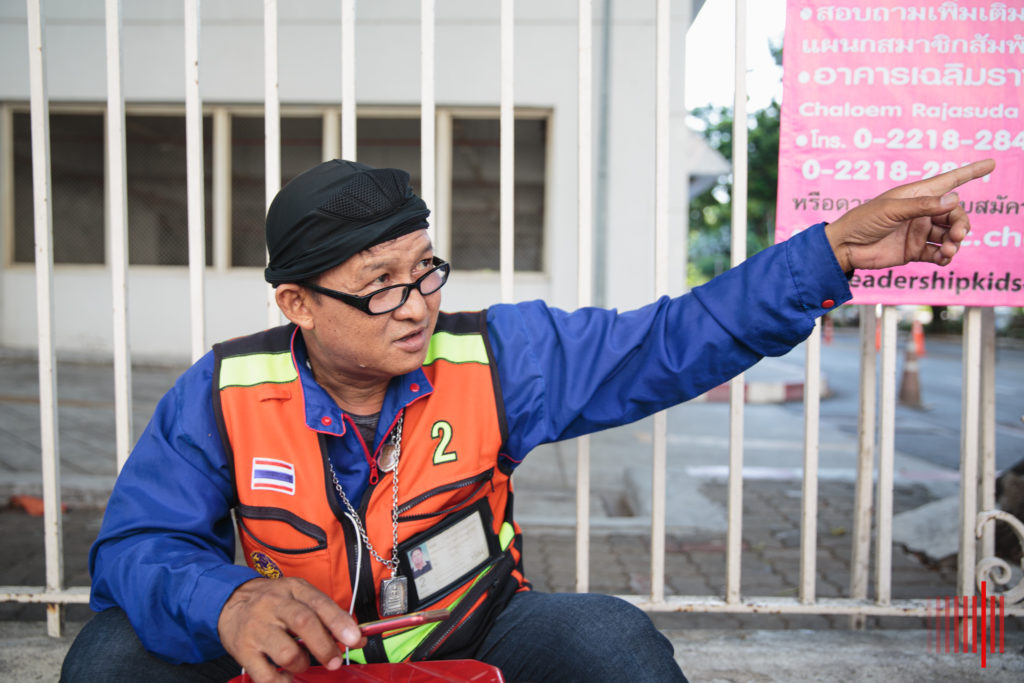 "At this moment, getting 200 baht a day is tough," said Subhap.
"I will have to go back [to my provincial hometown] if the situation goes on for long. I want to go back if I can. Living there, I could get something to eat. If the government wants us to stay in our rented room and not go out, that is fine, but they need to help us. We still have bills to pay; water, electricity, rent, car, mobile phone, and we have to eat. How can we survive if we are not allowed to work and cannot go home? The government needs to help us."
Scalding, empty streets
The other propellers of Bangkok are the bus operators.
"Am I afraid of the virus? Of course. But this is my duty," said bus driver Theerachai Srichampa, repeating the same statement as others, "so I wear a mask and gloves on the job."
The BMTA (Bangkok Mass Transit Authority) driver flashed a dry smile. He lit a cigarette before continue:
"BMTA imposes a decent measure, though. The buses receive more frequent cleanups and disinfection. Conductors have to warn passengers to keep a safe distance from each other."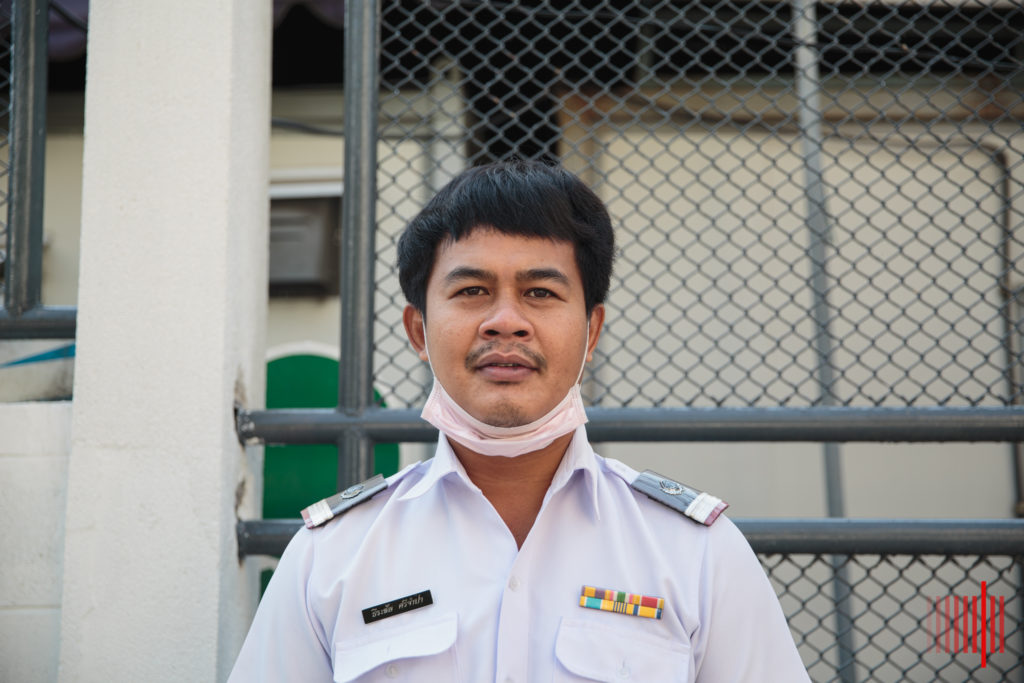 Theerachai added that they do not suffer the most onerous impact. As BMTA employees, they receive a stable salary and welfare, and the BMTA also offers additional aid measures for its operators. Affiliated vans and minibuses, on the other hand, do not enjoy the same benefits and are not sure how to handle the novel trouble.
In the same vicinity as the bus detour stands the King Chulalongkorn Memorial Hospital. Van drivers parked their vehicles along the empty road under the searing March weather.
Phonsak and Lamai both drive and own a van. Their main passengers are medical professionals and students. As schools close down, incomes vanish. Although medical staff still use their service, their overall earning drops.
"We are not really afraid of the virus as we protect ourselves. Our passengers, most are medical professionals, also protect themselves. But we earn much less now that there are fewer passengers. The hospital implemented an alternate attendance policy. The Faculty of Nursing is already closed down. After deduction of expenses, we are earning less than the minimum wage," the drivers took turns talking.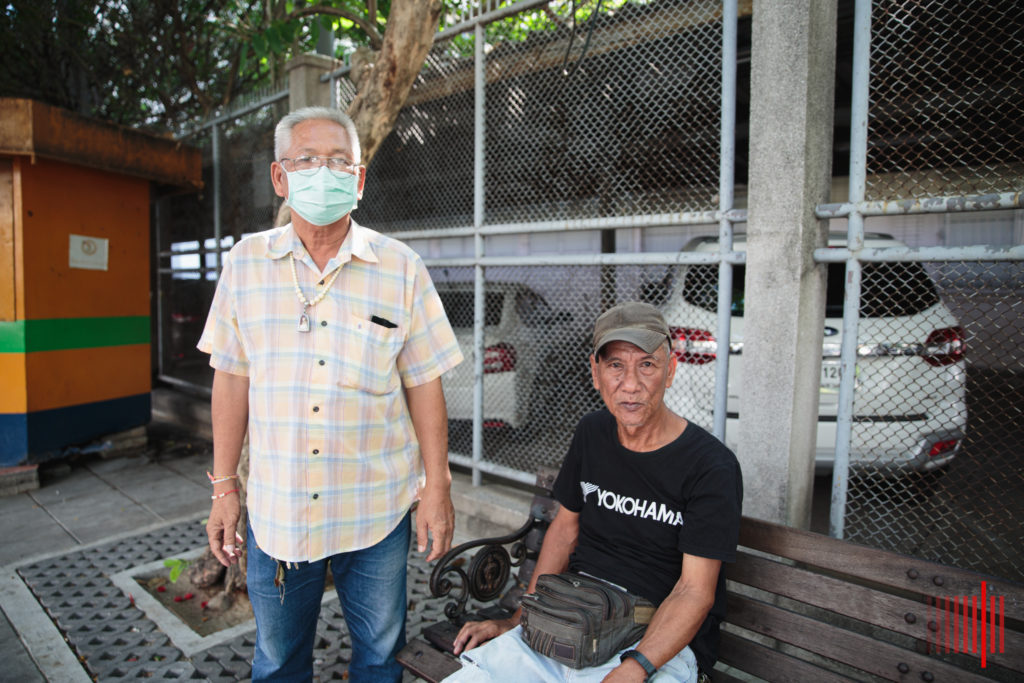 "During the coup and political rallies with the imminence of violence, we were not affected because we drove for medical staff. Now that they work in shifts, it's over for us. It's tough."
Besides public transportation, Tuk-Tuks, the iconic vehicles of Thailand, also suffer an early-on impact of the pandemic.
Sakorn, a Tuk-Tuk driver from the province of Surin, told us that the disappearance of tourists has taken a heavy toll on him. His livelihood became more challenging than ever with his income plummeting.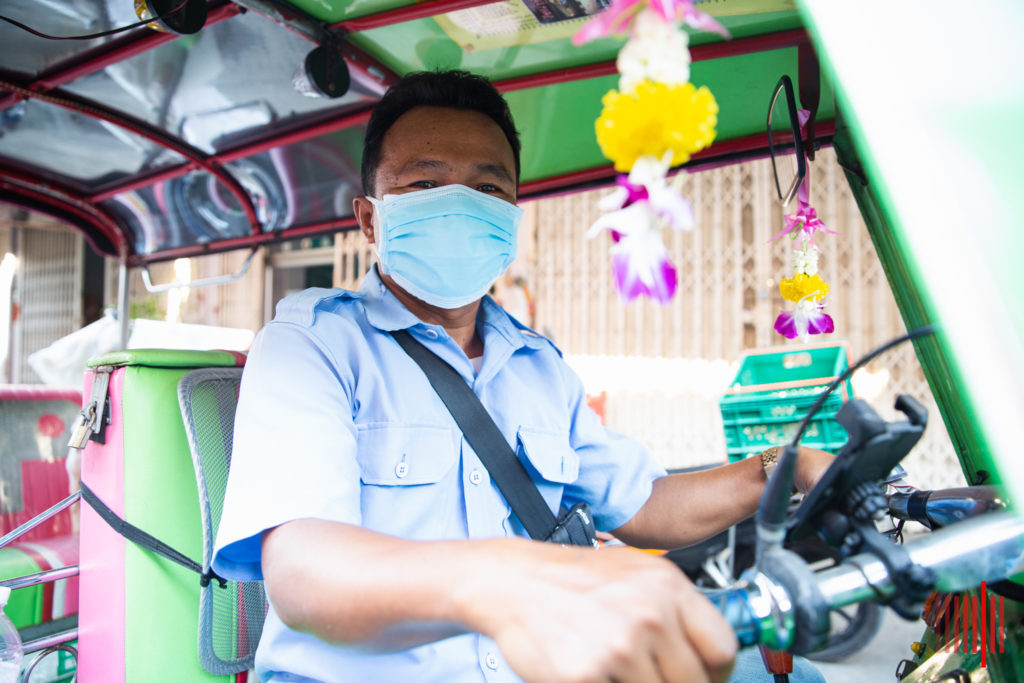 "It was already getting worse before. When the virus started to spread, I was done for. I made 700-800 THB per day before, now I get 200-300, mostly from regulars. My wife and I used to have 2-3 dishes, now we only afford one, with a fried egg as a side."
When asked if he has considered going back to Surin, Sakorn sighed through his mask.
"I do want to go back, but I do not know if I caught the virus. I do not want to spread it to the elders there. If this situation goes on, and I remain healthy, I think I will go. Being back home, at least I get to feed."
Deserted taxis
Around Sam Yan and Rong Muang neighbourhoods, vacant taxis are abandoned on streets. Many fill small taxi garages. An owner of a garage told us that a large number of taxi drivers have left Bangkok.
Kamthorn Choonukulwong, an operating taxi driver, shared his experience as a Bangkok-resided chauffeur.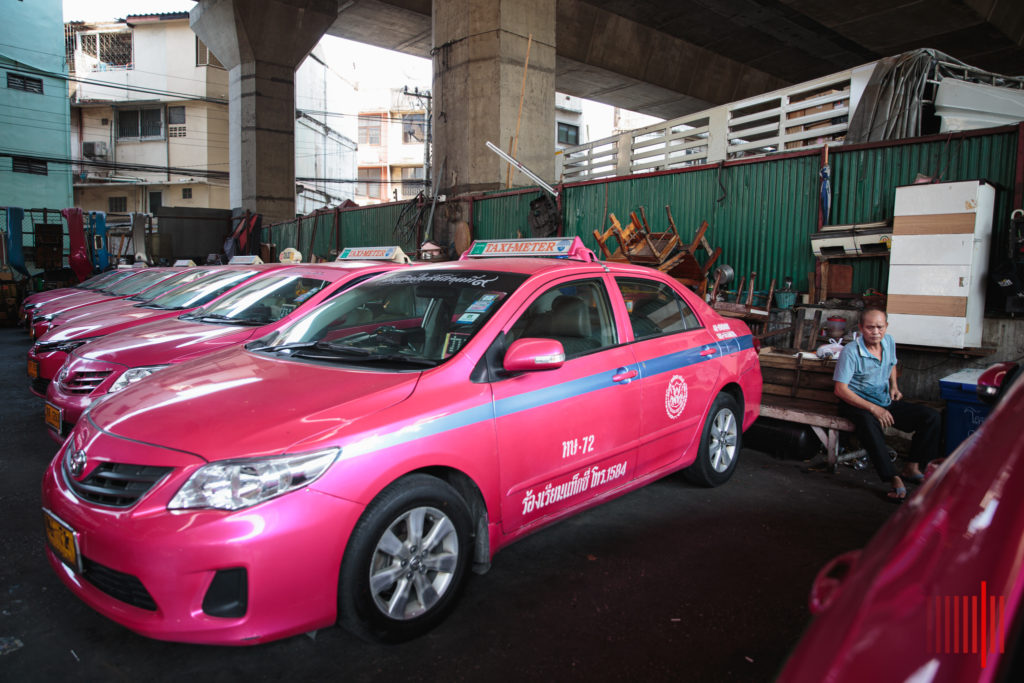 "All other drivers went back to their provincial hometowns. Those who still drive either own the cars or are Bangkokians. If the government orders that taxis stop the service, I have to oblige. For now, I continue to do my job. Yes, it affects me, but it affects people from other provinces more. They shoulder far more expenses."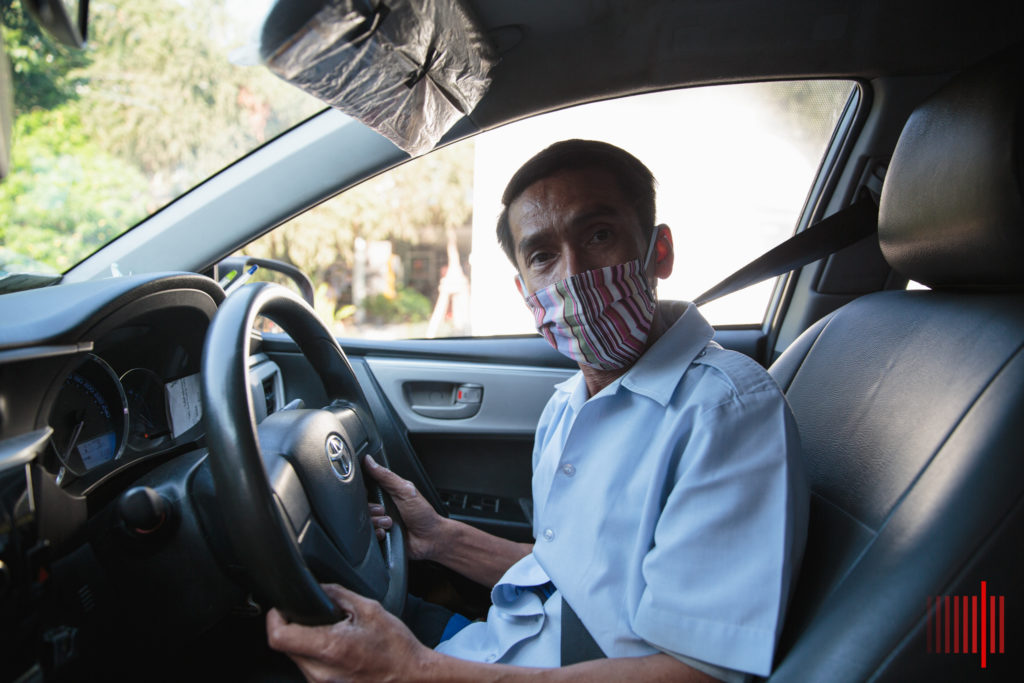 "I can stop driving a taxi if the government demands so. However, if the taxi industry falls, the government falls too. The Cooperative (Thailand Taxi Cooperative) looks after us. All cooperative networks in Bangkok are falling like dominoes. The government must prepare to cope with this."
The streets of Bangkok seem more empty than ever, while many lives are doing their parts to 'drive' the capital city. Drivers are undertaking health and economic risks. They maintain a faint hope that the government will come up with solutions to aid their livelihoods.